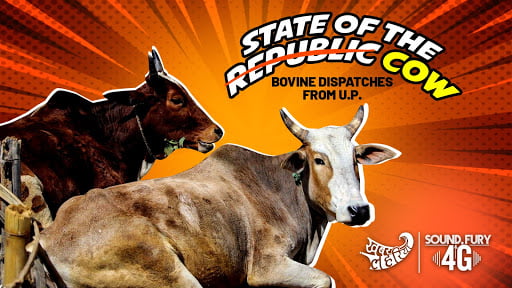 We begin with death. 
In Bundelkhand when cattle die, it is not customary to let the bodies remain in the village. The carcasses are deposited on the outskirts, and a community of cattle skinners is called upon to make the trouble vanish. 
The Chamar community who carry out the intergenerational, caste-segregated occupation of cattle-skinning and leather work are mostly Dalit. Bundelkhand in Uttar Pradesh like much of the country is rife with caste-discrimination. While casteism is often more covert in the cities, for the Chamar community in Chitrakoot district of Bundelkhand, it shapes the daily circumference of their lives — where they live, whom they can sit beside. At weddings, there are specific corners assigned for Dalits to eat, and you're meant to wash the bottles you've sipped water from, or even dispose of them. 
In 2018, Rambabu, a Dalit cattle-skinner in Banda, Chitrakoot recounted to Khabar Lahariya his childhood days, growing up seeing his father and grandfather working the trade. "Our forefathers did it, it brought in money for our family needs — we never felt then that this was work deserving of lower status. Now I try to ensure the same sort of security for my children."
But so entrenched in stigma and casteism is the occupation that the dominant castes consider beneath them (while still needing the work to be done) —  that the word 'chamar' is used in common parlance as a derogatory slur. When talk turned to discrimination, Rambabu said dismissively, "Aur kya bhedbhaav? Apne jaat ke saath uthna baithna, aur kisi jaat ke saath baith nahi paate." (What discrimination will I speak of? We only live among and mingle with our own caste. We can't sit with any other castes.)
In the summer of 2019 KL reported from Itwa, Chitrakoot where the Chamar community was forbidden to use the only functional handpumps — located in dominant caste localities in the village. This is merely one in a thousand everyday violences enacted through the prism of caste in Bundelkhand, that runs from separate handpumps to an atrocity like Hathras or an entirely separate 'justice' system. It forms the DNA of KL's everyday reportage — through the perspectives of a team led by Dalit and minority reporters and editors. 
It is unsurprising then that in the past decade there has been an exodus of Dalit youths and younger generations from cattle-skinning, seeking upward social mobility. 
In the villages of Bargadh, Manka and Tugarva in Mau, Chitrakoot from 70 percent of the Dalit community working as cattle-skinners, hardly 5 percent remained in the trade as of 2018. Nearly 20 percent of the Dalit community had transitioned to working as mochis (the leather based profession of cobblers).  
At his shop in Mau, rows of handsome black and brown leather sandals hanging behind him, cobbler, Rakesh recalled a time when the entire mohalla worked in cattle-skinning. "Now only four or five people have remained". 
Older grey-bearded Daddu Prasad of the same locality, told KL about leaving the "chamru dhandha" (hide business) of skinning dead cattle and buffaloes. "Sab chhod diya (I've left it all)," he said. "Gaanv ki society sahi nahi (The society in the village is not right). If I continued to do the work, they would say 'Ganda kaam hai (it's dirty work), we won't let you sit with us'. Even people from my own caste. This is why I have had to leave the profession." 
"It's not just about me. I have children, grandchildren at home. If I need to find them a rishta (match for marriage) tomorrow, then I need to stop this," Daddu said. 
Prabhavati of Chitrakoot laughed, "My relatives don't know I still do this work. Who will marry my children then?" Behind her on the charpai her toddler daughter in a red frock and fountain pony dangles her legs in the air, while her even younger brother clambers off the bed. "I don't know what will happen if they find out."
After the Modi-led BJP government came to power in 2014, heavily entrenched in casteist ideology that characterises its roots, the RSS —  reported crimes against Dalits rose by 29 percent in U.P. per the NCRB 2014-2016. In 2016 40,801 cases of atrocities against Dalits were registered while in 2015 38,670 cases were reported. 
Meanwhile, the cow or gau-mata (Mother Cow) as BJP and politically-useful Hinduism would have it, has come to define the party-line and governance more and more. Well, at least on paper, speeches, election promises, and in the latest zenith of 2021, a national cow-exam, a brainchild of the Rashtriya Kamdhenu Aayog, which has also recently brought us cow-dung chips to protect from phone radiation.
As cows have come under the vociferous protection of the self-styled 'gau-rakshaks' of CM Adityanath's Hindu Yuva Vahini — quick to respond to viral Whatsapp messages about threats to cows; cow-slaughter had been banned in different states (as recently as Karnataka in January 2021) — the  fear of being attacked for cow-slaughter has increased alongside a rise in lynchings of Dalits and Muslims. In Una, Gujarat, one such incident in August of 2016 led to massive protests by Dalits in which thousands took the streets, and angry leather workers discarded cow carcasses outside administrative offices. 
India's leather industry, valued at $ 12 billion, and part of the government's hyper-patriotic Make in India programme, almost exclusively relies on Muslims and Dalits  for the manual labour of skinning and tanning. In Kanpur, the largest center of buffalo-based leather, Dalit and Muslim hide merchants and workers compained of RSS and BJP karyakartas (activists) creating a terrifying ruckus around cows whenever they encountered someone skinning cattle or transporting hide. While Bundelkhand itself has not seen as much cow-slaughter related lynchings as other regions in U.P, the fear is strong well into 2021. In June 2020, the U.P. government approved the Prevention of Cow Slaughter (Amendment) Ordinance providing a maximum imprisonment of 10 years and fine up to Rs 5 lakh for cow slaughter. 
This came after 2017's closure of slaughterhouses in U.P. which impacted meat packaging, livestock and leather industries. In U.P.'s Mahoba and Jhansi regions this led to massive unemployment and debt for the primarily Muslim traders who ran pillar to post for licenses. The slaughterhouses were shut down again during the Covid-19 lockdown. While many across U.P. have resumed operations, it is not at the same scale, and police continue to harass those in the business, KL found at the end of 2020. The closure of slaughterhouses also adversely impacted farmers in U.P. 
Farming, which is an increasingly precarious mode of livelihood, particularly for marginal and landless farmers, makes it unfeasible during lean periods to hold on to cattle who must be fed — particularly those who have grown old. In the summer months, these cattle are often let loose, a practice called annapratha. They wander hungry into farmlands and destroy crops, harm themselves by eating plastic and waste, cause accidents with their large numbers on busy roads where they are also killed themselves, for instance by trucks at night who run over cattle seeking a dry spot in the monsoon. This cattle menace has been an enduring problem in Bundelkhand, with it having ramped up in recent years due to BJP's policies. 
CM Adityanath made much of said cows his first year in office, shifting the budgetary allocation from 40 to 98 crores towards cow-welfare. On his visit to Bundelkhand in December 2019, he even held meetings inside a gaushala alongside which curfew-like conditions were imposed on the locals.  Even as Adityanath's 'Ek saal naya misaal' celebrations roared through U.P.,  effects of the allocation were invisible with all 65 cow-shelters in Chitrakoot being privately run. In Chitrakoot alone, there were 50,000-55,0000 abandoned stray cattle in 2018. 
Further, Daddu Prasad in Mau, Chitrakoot told KL, that as the number of cattle skinners dropped precipitously due to heightened casteist and occupation-related discrimination, the discarded corpses of cattle at the village outskirts remain there. The state government remains seemingly unbothered even in 2021. 
Everywhere a cow, cow
The issue of cattle wandering into farmland and destroying fields or eating crops has been an issue for years, as far back as 2014. Since the new laws against cow-slaughter, and increased vigilante-ism, the woes of the farmers too have multiplied with numbers of anna jaanwar (grazing cattle who are abandoned when they are of little to no use to humans). 
In October 2020, farmers in Chitrakoot at the end of their wits complained to KL about losing both their sleep and their eyesight from keeping their eyes trained on their crops night and day.