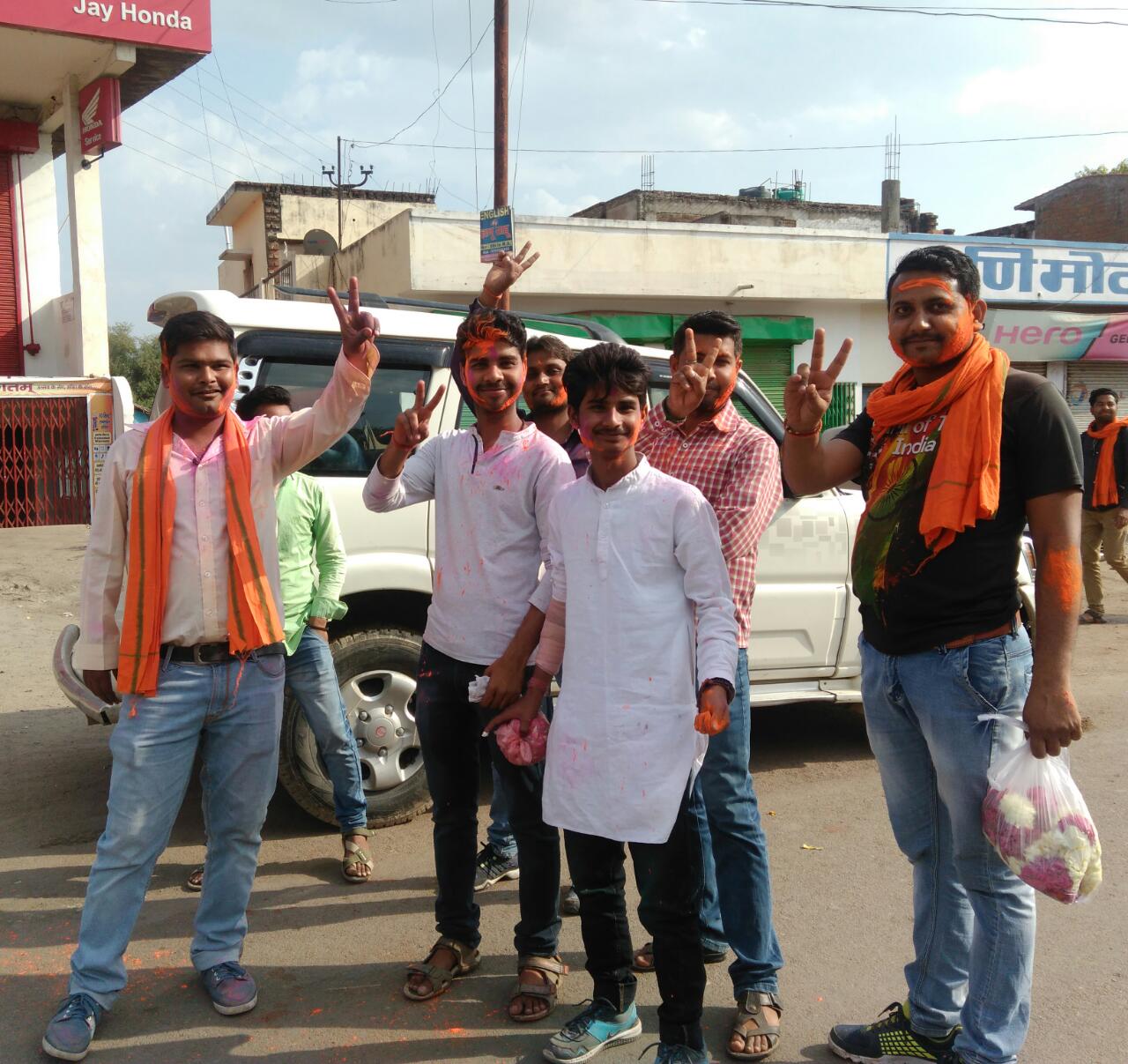 At dusk on a rooftop in Banda after the state election results, the air feels cool, the sky is luminous, so much so that the outline of a spectacular almost full moon is only partially visible. The streets are returning to their evening frenzy. Children return from tuition classes and come out to play. A pair of kites flirt in the distance, behind a fluttering blue flag with an elephant on it. Banda town is usually anything but quiet, but today the end of day brings a kind of meditativeness. Some shock, some disbelief.
On our right is a building imposing in its height and arches, yet its exposed brick and emptiness rendering it somewhat despairing. The building belongs to a relative of the BSP leader Nasimuddin Siddiqui, whose own sprawling house is behind us, where the elephant flutters. Today, it feels like an apt symbol of loss, of failure of strategies to build a new image and political success for the party, to be led by Siddiqui himself. 'It came up this high in Mayawati's time, then work stopped once she went out of power. Now it's going to be in this state another 5 years atleast,' says our slender but opinionated Dalit host. 'I agree with Behenji, there should be a re-election. There is definitely some gadbadi.' Shivbaran is from Kamasin in Baberu assembly constituency. 'We heard two names only during the campaign. Kiran Yadav (BSP) and Bishambar Yadav (SP). No one had even heard of the other candidate (Chandrapal Kushwaha of the BJP) – and he won by over 20,000 votes. It's not possible.' When we asked if perhaps many Dalits had not voted as expected, or as claimed, for the BSP, and maybe caste had not been as predictable a card in this election, our other host interrupts, 'But what about people in our own homes and villages, who we knew? It's not possible. Even I went to the booth wanting to vote for someone different this time, and I was so convinced of wanting youth and modernity and change. I really thought Akhilesh was doing his best to keep the BJP out of UP. But at the end, I pressed the elephant, inspite of myself. Maybe because the BSP candidate was a woman, maybe because I had met and knew her. But whatever you say, in the end caste does matter in UP.'
Only an hour before, the streets heading away from Galla Mandi, where votes had been counted, were thick and loud with ecstatic saffron faces. The celebration slipped seamlessly from performative – saffron selfies and cheers of Jai Sri Ram and Bharat Mata ki Jai – to mob-style, expanding in size and power and fearsomeness. Somewhere ahead, Gayacharan Dinkar, the erstwhile MLA from Naraini constituency, a seat reserved for Scheduled Castes, addressed an impromptu Q and A. 'In America, votes are cast on ballot paper. In Japan, a country far ahead of us in technological advancement, electronic voting machines have been declared faulty. But we're still using them.' Asked about the anger of voters at his absence in the constituency throughout his term and failure to address their problems, he responded, 'There are some villages, like Makhanpur and Mohanpurva, who say they will boycott every time. I have made a road that connects them to the main thoroughfare. They must have had some new demands this time.'
Beyond the crowds, in a timber warehouse by the roadside, a group of local reporters gathered to discuss the results. The conversation was sealed with the understanding that they all had to take care of themselves and their expenses – footed in large part by political parties and leaders – and so no names would be named, no analysis would be too probing. But off record, they were businesslike about the repercussions of this pasa palatna, this shocking change of the political tide. 'Look at the kind of sloganeering, isn't it going to make some communities fearful? You mark my words, there will be violence, there will be riots.' 'There will be more intense casteism, Brahmanism – there will be murders, rapes – in other words, life as usual for us reporters…' One Dalit reporter claimed that the upper castes were put out by the misuse of the SC/ST atrocities act in the previous BSP regime, and so moved away from supporting that party. Another claimed that the BJP's promises to tackle the mining mafia once and for all swung votes in their favour in the rural belts of Bundelkhand.
But also clear from the part thrill, part fear, part exuberance at the political swing that is the BJP's sweep of Uttar Pradesh – from Banda, a Congress stronghold, and with no precedent of allowing the BJP in – is that this was coming. Shock and disbelief, and the blaming of technology was more than misplaced. At a dhaba in Banda, a pair of students discussed how all seats had been won on Modi's merit, and how this was what they had all expected, and hoped for, 'Us Phd students in the University, and even all the political groups there, this is the result we all wanted.' For months, Whatsapp groups in this district and the adjoining Mahoba and Chitrakoot had reminded journalists, administrators, businessmen, students of the consequences of Hindus not joining forces – Kairana aur Bangladesh dekhne ke liye tayyar rahen. Messages asked pointedly, if people had to chose a leader to nurture their 8-year old child for 5 years, who would they chose? The options were Rahul Gandhi, Mayawati, Mulayam or Shivpal Singh, Lalloo Prasad, Mamta Banerji, Digvijay Singh, and Narendra Modi. They exhorted Hindus to come together, to bring victory (abki baar 300 paar), to make the lotus bloom, to build the Ram temple and paint the world saffron.
Outsiders as they may have been to UP, as contentious as ticket allocations had been, as unfamiliar as candidates were to their constituencies, they had an ear to the ground. They were able to twist discontent with the incumbent government, and disillusionment with the too-distant vision of the BSP into an all-powerful formula. 'Saaf kar diya is belt ko, Mubarak ho aapko,' said a buxom travelling mate. Calculations and strategies aside, what can be more fearful than a majoritarian, self-righteous politics that feels that it is justified in any action it may take, or condone? Let us just say, we have never felt more fearful in 15 years of reporting in dakuland, as we felt in that homogenous sea of saffron, choti-wielding, male celebration.