Digital India goes www.kaput in rural Uttar Pradesh. Guess who pays the price?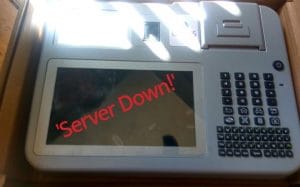 Rinku Singh is a young farmer who lives in Pahad Purva village in the district of Chitrakoot in Bundelkhand. Recently, a momentous occasion unfolded in Rinku's life when he finally had in his hands, that most precious document, which is running every Indian's life today – his Aadhaar card. But the struggle to be recognized as a citizen of India, to count, literally, is an ongoing one for Rinku. The Aadhaar ID is, after all, in many ways, a first baby-step for citizens of what we're told is an emergent Digital India. Rinku brought along his valued document to the adjoining Taadi village, where we meet him, in order to forever seal his identity as farmer in the government's digital records – a move that will enable his life as a kisaan, ensure him subsidized, government-sponsored benefits and good quality material. But in the office here, hope bubbles are bursting all around us – we hear them pop every time a farmer comes face-to-face with an official, only to hear those two dreaded words: Server Down.
Server Down is a mantra here today at the office in Taadi gaon, where farmers have been coming in this past week to get their quotas of manure for farming. The season for new crop cycles has just about begun in Chitrakoot, which means a demand for khaad, and it has coincided with the government's decision to go completely online. What this means is that every Adhaar-linked farmer will be given his assigned share of manure systematically; what this means, on the ground, is well, you guessed it – Server Down. Or as Machchi Lal, a Taadi village local cares to elaborate, in a disgusted tone, "Kehte hai network nahi hai, phalaane nahi hai, dhimkaane nahi hai…" It's been three days since he's been coming to the office, he tells us, a claim in complete contrast to the official line being toed here – of how this is all a minor hiccup on the verge of being resolved, a mere 24-hour situation, max. After all, one just has to take stock of the advantages on offer as Balendra Bhushan Mishra, the official in-charge, Sachiv Sahkari Samiti, Mau, says, "See, it's a great system, actually. Any farmer can just come, press his finger onto the system, pick up his quota of khaad, and walk away. Itni badhiya baat hai. (That's fabulous)." But what of the fact that the system isn't exactly working this way, we ask? "Well, as soon as the server is back, it will be fine. We will attend to them." To all the 1500 farmers who're listed with his office? He nods and goes on, emphatically, "You are only talking of the difficulties they are facing. What about the convenience they are being given? Look at that also."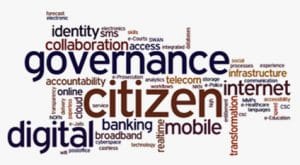 Rinku is in no mood to indulge though, "It's been a week already and my fields are ready – they are drying up now. I had also assumed it would be a matter of few hours, that I would pick up my bags of manure now that I have my Aadhaar, and get back to my field, which were ready to receive it."
Mukesh, who's come from Mau gaon fails to understand the drive for digital, "Online mein lage raho bas. It has us running around in circles, spending a few hundred bucks. And after everything, nothing gets done." Mukesh's fields are also lying waste, waiting for the khaad, "I'll miss the sowing now. I'll have to start all over again."
Everyone is miffed at the sudden-ness of the decision. According to the farmers, systems have gone completely online since February 1 – perhaps as part of the Digital India plan, which has put down December 2018 as the official deadline for rural connectivity, pan-India. Bharat Broadband Network or BharatNet, the official infrastructure service provider, lists last-mile connectivity as one of its main agenda points, echoing the Prime Minister's speech at a conference on cyberspace held in the capital city, in November 2017, just a year short of that proposed date. 'We believe this validates our long-held belief in "vasudeva kutumbakam",' Modi had said, shortly after his celebrated San Jose visit, when we had all witnessed his smooth networking with Qualcomm, Google, and Facebook – giants that had pledged investment and enabling of the Digital India vision. At the Delhi event, Modi had indulged in signature word-play too, speaking of mobile power as 'm-power'.

Empowerment is also something the official at Taadi village, lightyears away from Delhi and San Jose, brings up, "There will be no discrimination now," he says, "since machines are running the show."
Sounds like a great by-product, we say, but exactly when will the machines start running the show? "Ab dheere-dheere ho hi jayega (It'll happen gradually)", mutters Mishra ji, in response.