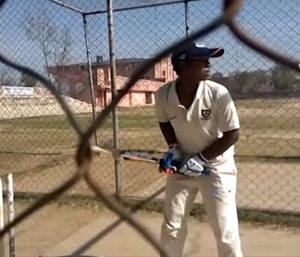 Up-close with Shobha, Banda's local cricket star, and erstwhile captain of the state's Under-19 Women's Cricket Team
"I never perceived this to be a game only for boys. Whenever I came on the field, I thought of myself as a player and played with the boys as a team. So, I don't feel a problem. When I am on the ground, I feel good."

The captain of the Under-19 Womens' Cricket Team of Uttar Pradesh hails from the district of Banda where she is quite the superstar – both because of her athletic talent and also for introducing Banda to the previously alien concept of women playing cricket. Until recently, Shobha was the only female cricketer in the district. However, that did not deter her spirit at all. Once she's on the field, she's an able sportsperson like any other, in her comfort zone, and shining inside it through sheer talent. She narrates the story of her humble beginnings, "I used to play a little bit of cricket, off and on, with my brothers. But I always liked playing it. So, when my father enrolled my brother to the cricket stadium for training and practice, he got me enrolled too." This was where Shobha started practicing properly, "(Coach) sir told me that there is such a thing as girl's/women's cricket, so I was even more keen to participate. And I got selected."

Shobha has the unique tendency of making it all sound effortless – the journey of her struggle – which, in all likelihood, was not. That she is a naturally gifted athlete displaying awe-inspiring talent is no secret. Along with cricket, Shobha played kho-kho, javelin, discus throw and won competitions in all of them at the State level. In fact, for javelin throw, she even played the nationals. But cricket remained the predominant passion and when she was selected for the State cricket team, Shobha decided to sharpen focus and give her all to the game she so loved.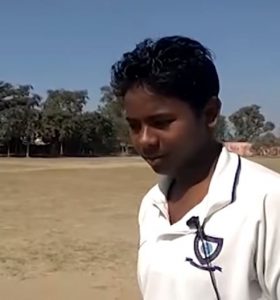 The trickle-down effect of her success in big picture perhaps elude Shobha; while speaking with such nonchalance and humility about her journey as the only female cricketer in the district to the Captain of the Under-19 State team, she doesn't seem to realize how she has become nothing short of an icon. When your eye and mind's on the ball, that's all that matters, it seems. At least, it's true for Shobha who acknowledges parental support as a big cause of her success. "I am where I am because of my parents," she often says, her disarming smile in place. She recalls her early days and how her father used to accompany her to the field early in the morning and even run with her. Her father's support has been instrumental for her training and regime. This is where Shobha mentions what flashes hard on everyone else's mind the minute they put together those words – woman, cricket, rural U.P. "There are very few women in this field", she says, "Had it not been for support from my parents and encouragement from the school principal and teacher, I wouldn't have reached this far. I was also lucky that at the time I started my training, there was an encouraging cricket coach at the stadium." Shobha's mother brushes aside the gender divide, perhaps one of the reasons why Shobha is comfortable in her skin, "We don't differentiate between girls and boys. We want her to get ahead, go far, play for the Indian team. We support her completely. 100%."

Of late, taking cue from Shobha, plenty of girls have started playing cricket in Banda and enlisting themselves for training. It's a long road ahead, though. In December 2017, when Banda organized the Banda Premier League, or BPL, to encourage kids in the district and provide a platform for them to showcase their talent, girls were all but M.I.A. There were 8 teams of boys, but not one all-women's team. Coach Jeetendra Singh Yadav explains that it's a simple game of numbers, "This league is for the boys primarily, because there are very few female players. We cannot organize a league around girls or women unless there are at least 3 or 4 teams." It was no surprise then that the boys teams found local sponsors quite easily, while not too many were willing to shell out monetary support for the girls. "But there will be some arrangement in future to get the girls a platform like this," says Yadav, hopeful.

Vaasif Jamaa Khan, the District Sport Secretary is optimistic in a similar vein about the future of womens' cricket, not least because of Shobha's achievements. "Shobha was playing alone", he says, "but just by watching her, 11 girls started playing. When the Under-16 trials took place, 6 girls went for it."
Khan also shares a dream he nurses, "Shobha is our ray of hope. It is our dream to have a Ranji player from our midst, and Shobha is just perfect for it. We support her in every way and will do whatever we can for her, to help her achieve this for Banda." Shobha affirms on the correlation between seeing more girls playing and girls, in fact, playing, "Once there are more girls, Coach sir will organize tournaments for them. People who hesitate to send their daughters will become more comfortable. I have this much faith in Sir, he will promote the girls once they show up. And a lot of kids have come to the ground watching us now."

Shobha's understanding of her sport and of her success is lucid and matter-of-fact,. "You only get trophies when you do well on the playing field." It is perhaps her straightforwardness and clarity in regard to her own career that has kept her motivated. She has faced, and continues to face negative criticism from several "well-wishers" because of her gender. People have questioned her choice of sport constantly – "Cricket is what boys play", is a mantra she has grown up hearing. Along with the complexities that gender aggravates in her game, she also has to face difficulties off field. For instance, both her femininity and sexuality have been topics of interest. People have criticized her for her appearance all her life – why does she keep her hair so short, why does she not 'dress up more like a girl', "They ask me to grow my hair, wear a nose ring, earrings, wear suits (salwar kameez)." But Shobha repels the dissonance with an offhand coolness that acts like a force field on the field too. "I don't care about it," she says, her shrug saying it all. Shobha tells us how her parents are also often questioned about their daughter's appearance and her future, by which they mean marriage. But the relaxed behavior is probably genetic. Her mother says calmly, "People talk. Some appreciate. Some don't. There are all types of people. We are not affected by it."

The discussion of feminine and 'sporty' in the milieu of sport has been around for a while. 'Muscular' and 'strong' are not terms identified with feminine. Strong female players are 'masculine'. To be strong you have to be male, right?  The public discourse against the phrase 'like a girl' is all but too recent. Short hair, muscular arms, broad chest- these aren't feminine traits for the sexist world order. These gender biases are accentuated to higher levels in sports. Women enter the domain of competitiveness, adeptness, strength and aggression. These traits are never juxtaposed with the feminine but are rather perceived as contradictions.

Gender inequality in sport is terrifying. One survey study has concluded that gender pay gap in sport is larger than one finds in politics, academia, business and medicine. There is a wide gap between men and women in sport bureaucracy. There are considerably fewer female coaches and trainers. There is definitely no dearth of female sport talent in this country- P.V Sindhu, Dipa Karmakar, Sakshi Malik will vouch for that.

With Cricket as the First Order of Entertainment in the Royal Sports Hierarchy, India has acknowledged that other sports are as much delightful and deserve attention. This resuscitation of 'other' sports is reasonable but let us not forget that even with our most beloved sport we haven't touched the bar of gender equality. Mithali Raj and her team managed to grip the nation's attention during the Women's World Cup and won hearts all over the country with their performance. But media attention, lest public attention for female players (even in sports not conventionally or historically stereotyped for women), is scarce. At the media roundtable on the eve of ICC Women's World Cup 2017, the captain of the Indian Team was asked about her favorite male cricketer. Her sassy reply- "Do you ask the same question to a male cricketer? Do you ask them who their favorite female cricketer is?" trended on social media. It was witty and also a painful reminder of the gender bias in Indian cricket. She blamed the lack of publicity that Women's Cricket receives. "There's a lot of difference because we are not a regular on television. Now the BCCI has made an effort that the last two home series have been televised and social media has improved a lot of it but there is a still a lot of catch-up to do in terms of recognition."


Chak De India!, Mary Kom, Dangal, Bhaag Milkha Bhaag, Lagaan- Bollywood has then and again celebrated the spirit of sport. These movies have championed the underdog- struggling with hardships- mental and physical, cheered for the headstrong ambitions through characters building up internal and external courage and motivated the audience through fiery and fierce speeches delivered with critically acclaimed acting aimed at inspiring the Achilles-in-the-making underdog. But to celebrate sportsmen battling struggles and making big in life in the face of difficulties we don't really need to search for characters on screen because India in reality has plenty. There is a herculean share of raw talent in sport and along with it a large share of unsung heroes. But even in the list of these unsung heroes, women are far behind, somewhere at the bottom of the page, struggling to hold their own while gender biases pull them down.

The plight of gender inequality in sport is so profoundly disheartening, perhaps that is why it even more overwhelming to hear Shobha Devi's story. The story of a young girl in the district of Baanda in Uttar Pradesh who wanted to follow her passion and make it big; in a place where girls had never played cricket, she held her ground and persisted- only to become the Captain of the State's Under-19 team.

In a field (no pun intended) marred by gender bias, people like Shobha give hope. They not only play their sport and prove their physical mettle, they also push the societal boundaries and stomp taboos by their spirit and actions. Here, take Shobha's uncomplicated advice for some hope and inspiration-

"Girls who do not to fulfill their dreams because of hesitation and fear of people, I want to say this to them – if you like to play, then play."
Simple enough mantra, let's urge it onto everyone, this #NationalSportsDay.