While the Prime Minister runs for re-election, residents of his constituency affirm their rights
On April 11, the first phase of voting will officially mark the beginning of the 2019 General Elections, one that is a desperate race for votes for parties big and small. But in the all-important district of Varanasi–from where PM Modi is running for re-election–the villagers in Gangapur and Shivdasha have decided to withhold voting until their villages get roads.
"Ever since the country has gained Independence – so some 70 odd years – there has been no sign of roads being constructed here," said Kalavati, a Gangapur native, mincing no words. The closest main road to them is 3 km away estimated Shivdasha resident Urmila. With no pucca roads, they use narrow paths snaking in-between plots of lands to reach the main road. "We face a lot of trouble here," said Korota Devi angrily, "My daughter could be getting married, but the wedding procession won't be able to come to our house. Vehicles definitely can't. We can't do any field-related work that requires equipment, because it would get stuck. We have no option but to walk." And the troubles extend beyond inconvenience, veering towards risk. Villagers narrated instances of how, because ambulances couldn't reach the villages directly, patients would be laid down on charpais and carried by family and friends for those 3 km till the ambulances. Korota Devi added, "Someone has been mugged before, walking alone in the night. How am I supposed to do that?"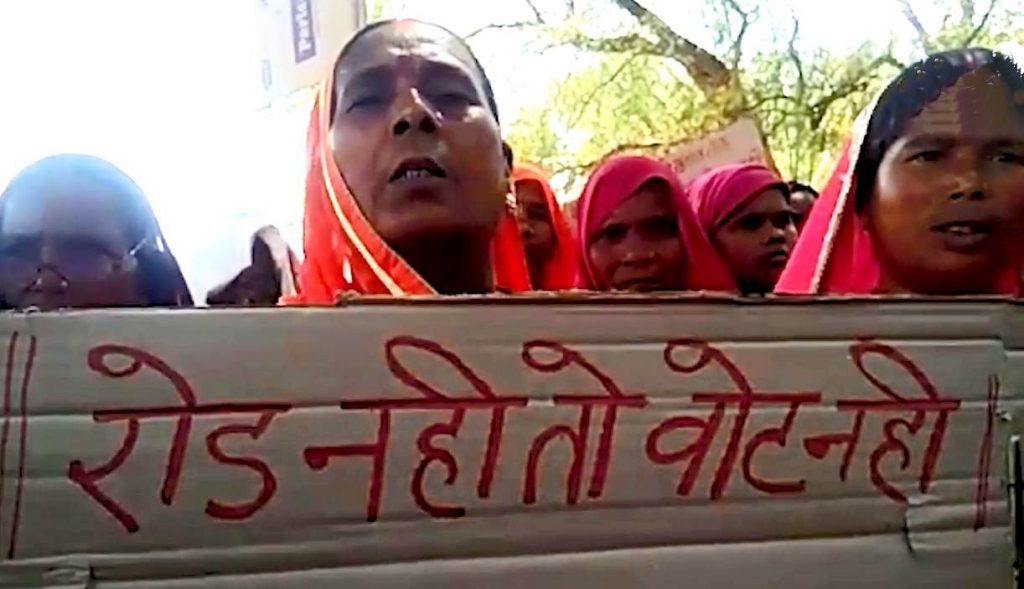 In December 2016, PM Modi brought back the PM Gram Sadak Yojana (PMGSY) to provide road connectivity to villages with populations greater than 250 people. Bringing back an older rural development scheme first initiated in 2000, the Modi-led government aimed to connect nearly 40,000 habitations at the cost of more than Rs. 80,000 crores by March 2019. Investigating and improving flagship rural development schemes was, after all, an important strategy for the newly formed NDA government in 2014.
By March 2019, claims of success were made. Some reported that from 56% in 2014, now more than 80% of villages in India had road connectivity. Of the 13984 eligible habitations in UP, 11751 were sanctioned under PMGSY; only 3 are left to gain road connectivity. However, others have expressed disappointment that a significant percentage of habitations remained unconnected despite the central government's push and the additional $500 million provided by the World Bank.
The PMGSY dashboard was the most telling. Despite announcing the scheme in 2016, no new roads have been constructed in the district of Varanasi; in fact, the last time new connectivity was constructed in Varanasi was in 2005-2006. At most, connectivity for 8 habitations was upgraded in the last year.
"When elections are upcoming, everyone comes – politicians, leaders, party people – saying that if we vote for them, they will make roads for us. But in reality, we have nothing. They go to the temple here and swear to give us roads," Kalvati said. Unafraid of naming names, she added, "The current MLA Anil Rajbhar ji also came here and made the same promises. We still have nothing." She concluded simply, "So now, no road, no vote." Urmila echoed, "We will only vote once the road is constructed. We are not greedy, we want nothing else."
The frustration isn't restricted to an individual. Villagers from the two villages in Chirigaon block had gathered together to protest the lack of road construction. A rally of young and old, men and women, walked the kaccha pathways around the villages, all loudly proclaiming "No road, no vote". Right at the front of the rally, a differently-abled young man struggled to navigate his three-wheel mobility cycle on the narrow dirt roads.
This boycott has long been in the making suggested Sanjay Kumar Singh, Shivdasha's pradhan, "This is not sudden. Rallies like these have happened a couple of times before. It has been covered by newspapers, by the media. Letters have been sent to officials and complaints have been filed." Singh, as the head, has done his due diligence too, "I have spoken to the District head, Mandi committee, PWD, and others about this issue many times before." Despite their official interventions through government-sanctioned channels, these villagers have seen little action. In the meanwhile, other problems have cropped up. "Without informing me, they have now arbitrarily, dug the road – not even in the day, in the cover of the night," explained Singh. And although he "put a stop to it when [he] found out", with the EC Model Code of Conduct in effect, the road will lay there incomplete until the elections wrap up. Shivdasha and Gangapur are only two villages amongst hundreds in the entire country that have promised to boycott the upcoming election because of the lack of basic amenities, including many fighting for roads.
"We're tired of trying to talk to MPs and MLAs, because they clearly are not listening. Our fight is now with CM Yogi Adityanath," said Surat Nishad, Gangapur pradhan Renu Devi's husband, "We will only be satisfied if he talks to us himself or comes here to see the situation for even just five minutes. If not, we will stand with the demands of the people in this village. We will support them and boycott the vote."
This Khabar Lahariya article first appeared on The Wire.