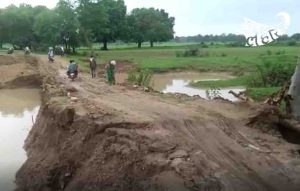 Come rainy season, and the news is filled with devastating stories of havoc caused by torrential downpours and floods in various parts of the country. The average person's typical reaction is to grimace at the tragedy, write a quick, pitying post on social media, and continue with her daily business. But it's not so easy for someone whose access to the outside world is almost completely cut off because of the rains year after year. Such is the fate of the residents of Baraun village of MP's Lalitpur district.
Life in the village of Baraun is dependent on three major towns situated close by. i.e. Kumedi, Mehrauni, and Jhansi. For it is only in these places that the residents of Baraun are able to access most facilities like schools, hospitals, and even courts and government offices. In order to get to these towns, the villagers need to cross a bridge. The only obstacle – this bridge is broken down, and has been so for the past 20 years!
Until the local administration comes through on its promise of installing a new bridge, the villagers have constructed a temporary kaccha path where the old bridge stood, which they rely on for their day to day activities. However, when the monsoon comes and water is released from the brimming Jamrar dam, this solitary makeshift bridge is also washed away, leaving the village effectively isolated from the rest of the world. A weary Ramcharan paints a distressing picture, "Life practically comes to a standstill when it rains because we need to go to Kumedi or Mehroni for everything – be it medical care, schools or even court-related work. It has been over 20 years now, but there are no signs of the bridge being built anytime soon."
Baraun is located four kilometres away from the closest high school as well as the closest government hospital, both situated in Kumedi. But then, with the temporary bridge washed away during the rains, the older children are unable to get to school. The situation is especially taxing for girls, who anyway have a tough time convincing their families to allow them to go to school at all. The village pradhan, Ginni Raja informs us, "We have about 100 children going to school in Kumedi, more than half of whom are girls, while we have another 150 going to school in Mehroni on a daily basis. But it is very difficult for these children during the rains when neither two-wheelers nor four-wheelers are able to cross the kaccha bridge and they cannot get to school anymore." In a similar vein, the younger children's primary school situated within Baraun serves no purpose in the monsoon either, since the staff and teachers have no way of reaching the school to be able to teach in the first place.
We asked a local resident, Nathuraja, what the usual game plan is for health-related emergencies, a woman undergoing labour for instance. "The only choice we have is to take the woman across the kaccha bridge on a charpai so that she is able to get to the nearest health centre, which is located at a distance of about 4 kilometres from here. Otherwise, too, we need the bridge for getting practically everything done because there are no courts or government offices located in the village."
Considering the extreme hardships caused by the absence of a functional bridge, the villagers have been petitioning for one to be constructed for a long time now. But all their efforts have been in vain. Anrat Singh gives an account of the villagers' plight. "We had petitioned for a new bridge to be built long ago – so long that it should have been completed by now. Some digging work had begun about two months ago for the foundation to be laid, but then apparently the contractor ran away. At the end, all we are left with is the kachha road, which naturally collapses at the slightest rainfall." This is in spite of the Bundelkhand Package being applicable to this area, of which strengthening rural infrastructure is a key component. In fact, NABARD has recently sanctioned over 1500 crore rupees to Uttar Pradesh under the Rural Infrastructure Development Fund, which is to be utilised towards irrigation projects as well as the construction of rural roads and rural bridges.
When we inquired from the concerned PWD Engineer, SK Agarwal, he told us off camera that a budget of 95 lakh rupees has recently been passed for the erection of a new bridge for movement in and out of Baraun. The work on this bridge is expected to begin after the rains. Until then, the residents of Baraun will probably have a monsoon as usual, where making it to school the next day – or getting any meaningful work done at all – is a constant uncertainty.
This Khabar Lahariya article first appeared on Firstpost.