Ashwin Paranjpe, faculty at UWC Mahindra College, Pune, and his team visited Chitrakoot and Khabar Lahariya's field offices in March 2019. A few days of shadowing KL reporters along with his peers and students led to the urge to pen it down.
REACHING GIDRAHA
Gidraha is 15 kilometers from Manikpore, in Uttar Pradesh. Mr. Param was born in Gidraha in 1950 and could recollect a few things told to him by his father. He was among the forty families which originally came from Baliya, Kanpur and Jhansi to settle down in Gidrahain 1930, along with Father Andrew, who was from Malta. In those days, the forest in Gidraha was dense and teeming with wild animals, including the tiger, Mr. Param remembers. This was a favorite location for hunting, and there is an old Forest Rest House here. Those were times of the British Raj when Christian priests going and settling in different parts of India enjoyed protection from the British, and by implication, received a fair amount of respect from the Hindu populace as well. But this is not a story about how these forty families came to be Christians in the first place, and why they came to Gidraha, or should they have come toGidraha. This is a story about their current existence, farming challenges, and about their expectations from the Indian government.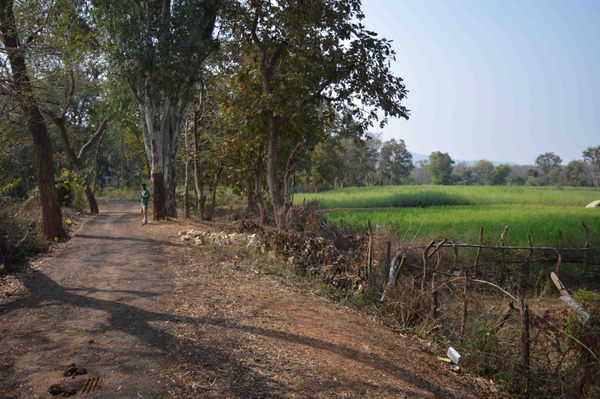 It was early March in 2019, and I was accompanying a group of 10 students from our college on a week-long odyssey through the hinterlands of Uttar Pradesh. An hour-and-a-half-long drive from Karwi took us through beautiful mustard fields, whose bright yellow flowers rustled in the morning breeze, giving me the feeling of being in a Bollywood movie where the hero, after having found fame and fortune in Mumbai city, is returning to his village. But my Bollywood dream came to an abrupt end when the mustard fields were suddenly replaced by large expanses of very dry land, covered with thorny shrubs and wilting grass, with a sprinkling of Mahua and Ber trees, which persisted despite the dry conditions. But, as luck would have it, our Bollywood journey was blessed with a happy ending, and the dry landscape soon transformed into thick patches of forest interspersed with green and yellow mustard fields and the Bardahariver meandering along. We were in Gidraha!
INSIDE THE CHURCH
We got down from our jeeps. Meera didi and Sahodra, the KhabarLahariya editor &journalist accompanying us, got straight into action. We entered a beautiful 1942 church, where a woman and two men were trying to repair the plaster which was falling off from the huge walls. We asked for Father Varghese, but he had gone to Manikpur for some work. So Meeradidi and Sahodrastarted interviewing a person. He declined to share his name, and after a few questions, he said he did not want to speak to us, and that we should talk to Father Varghese. But there was another person working nearby on getting a scaffolding made out of bamboo pieces and jute rope. He decided that he would speak to us. Mr. Mattew, which is a name I have given him for this story, was one of the 200 Christians residing in Gidraha, and was quite forthcoming in sharing the situation of this minority Christian community. He said "Our village is very remote, so there is no medical assistance during critical times such as pregnancy or when somebody is seriously ill or injured. Although government schemes are reaching the village, their implementation is haphazard and they often fail to benefit the families who need them the most".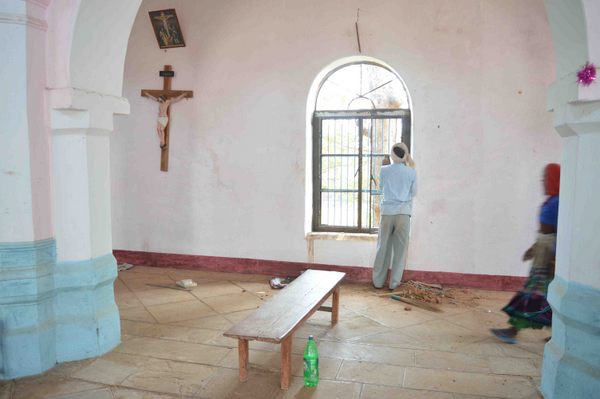 We came out of the church and went to one of the nearby houses, where the forty Christian families were living. The journalists started interviewing a few women who were going about their daily chores, asking them what kinds of issues they were facing, and what the upcoming elections meant to them. Not knowing how I could add value to that conversation, I sat down and started chatting with Mr. Param who was sitting on an old wrought-iron chair in the courtyard of his house. A part-time farmer myself, I asked him about his crops, and how things were going. What ensued was an intense expression of frustration and helplessness. In the twenty minutes that followed, he echoed the true sentiments of a small farmer in India. The fact that he belongs to a Christian minority community makes no difference, I think, because agriculture is not influenced by religion per se, but by forces of nature, government policies, and the market.
Mr. Param said that agriculture is the only source of livelihood for these 40 families, so the condition of the families is directly dependant on the condition of agriculture. When this community initially settled in this village in 1930, Father Andrew had purchased 1000 bighas of land and about 10-15 bighas were given to each family so that they could grow crops. The soil is good, and water is sufficient and these people work hard in their fields. In farming, tasks such as sowing, irrigating, weeding are quite straightforward, and by and large, most farmers are able to manage their crops till they become mature. However, there is a short window between when a crop starts to mature till the time it can be harvested. This short window is precisely when insects, birds, rodents, and animals are also interested in getting their share of the mature crop, and there is a danger of losing the crop just when it is ready to harvest. As the British would say, there is many a slip between the cup and the lip!
THE MONKEYS ARRIVE!
In 2016, the Forest Department captured about 35-40 monkeys from Fatehpur, an urban area, because they were becoming a menace there. The Forest Department released these monkeys in Gidraha, thinking that the monkeys would keep to the nearby forest and mind their own business. However, the monkeys had lived in an urban area before, and associated human settlements, and not the forest, as their source of food. Instead of looking for fruits, leaves and other edible things in the forest, the monkeys started raiding the crops, and even the houses of the people in Gidraha. Within three years, the monkeys multiplied rapidly.Mr. Param recollects that until three years ago when there were no monkeys, none of the fields required any fence, the roofs of the houses were made of clay tiles, and their children could play and eat safely in the courtyards. But not anymore. Every field needed a fence of thorny branches to keep the monkeys away. The thorny branches had to be brought from the nearby forest when the Forest Guards were not looking. The clay tiles would break when monkeys jumped on them, and the roofs would start leaking during monsoon. So the clay tiles had to be replaced with asbestos sheets, knowing fully well, Mr. Param adds, that the asbestos fibers may cause cancer. The community is fed up with these monkeys, he said, the Forest Department should take them away.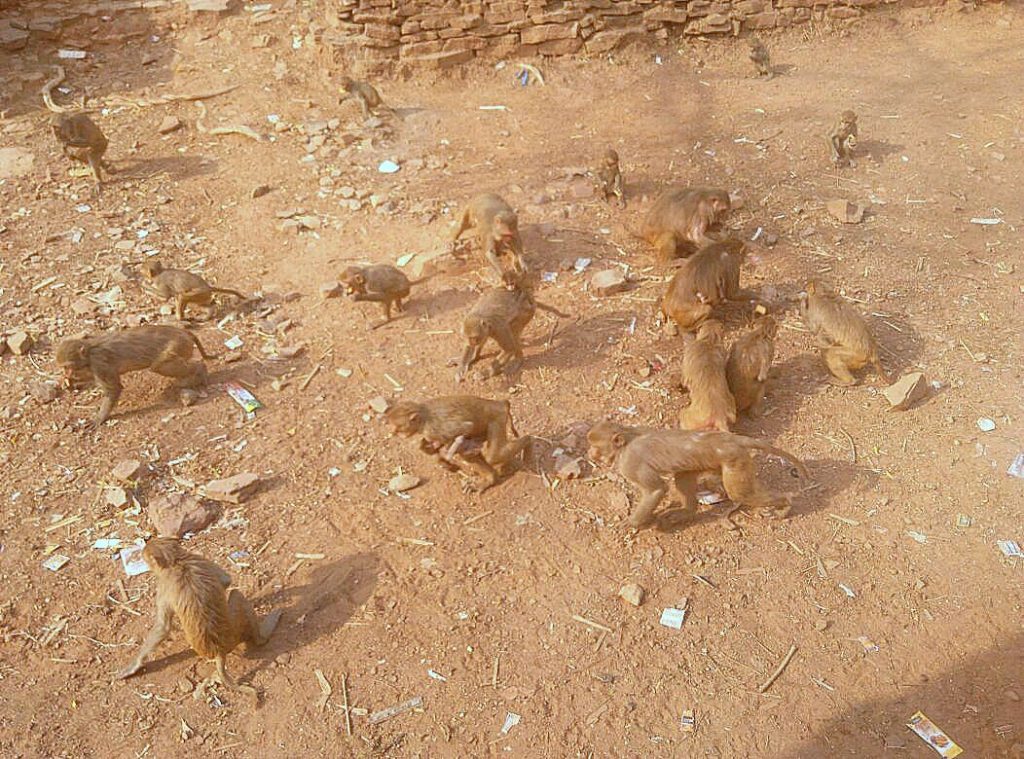 But the monkeys are just half of the problem, says Mr. Param. The loans which farmers take on their Kisan Credit Cards while purchasing farm implements or other inputs such as seeds, fertilizer, etc. have low-interest rates. However, farm inputs and equipment such as tractors have back-ended subsidies. Which means that a farmer has to first pay the entire amount by borrowing from money lenders at compound interest, then wait for the subsidy amount to be credited to his account. The problem is, there is an inordinate delay in receiving the subsidy from the government. Meanwhile, the interest on the amount borrowed from money lenders keeps compounding, and when the subsidy finally comes in, it is barely enough to pay for the interest, nullifying any advantage which the farmer would have got from the subsidy. Finally, Mr. Param goes on to condemn the government's move to give Rs. 2000 to all farmers to boost their swabhimaan or 'pride'. He feels this is more like an apmaan or 'insult' to farmers, who feed the entire nation and get this kind of treatment in return. Don't give us subsidies, don't give us loan waivers – we are not beggars, he says. Just give us interest-free loans, timely delivery of subsidy, and don't forget to take your monkeys away. We will take care of the rest.
70 YEARS SINCE INDEPENDENCE
It's been almost 70 years since the British have left India, and the tables have turned for the missionaries in Gidraha. There is no public transport reaching this village. To replace the cooking gas cylinder, the villagers have to travel all the way to Manikpur, spending Rs. 60 every time they go. Often, the cylinder is not available or the concerned government representative is not in his place. They have to go again, spending another Rs. 60.  Government outreach in Gidraha is minimal at best. Is it because it knows that the local church is running a school and a small dispensary? The church has given only 25 out of the 40 families legal ownership of the land which they have been cultivating for almost a century now. But it is reluctant to transfer the title of the land to some 8-10 families in the village, says Mr. Param. He wonders why?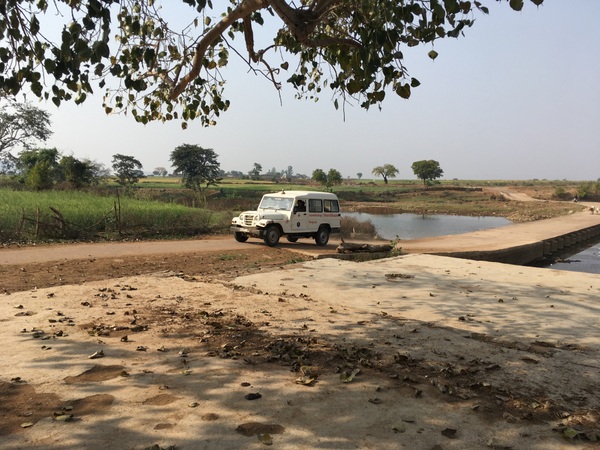 On our way out from Gidraha, we saw an ambulance coming in. It belonged to the church. I don't know if Father Varghese was sitting inside, returning from Manikpur, but it made me think twice about Mathew'scomplaintthat emergency medical services were not available in the village. Whatever the truth, neither the missionaries, nor the government, nor the urban elite lose anything – it's always the common man and the farmer who loses out.
-Ashwin Paranjpe
Views expressed in the article are the author's personal views.
Ashwin Paranjpe is Faculty, Environmental Systems & Sciences at UWC Mahindra College, Pune. He can be contacted at aparanjpe@muwci.net.