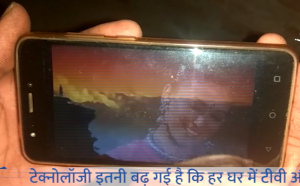 As cinemas go, Kumkum Talkies in Panna wears a run-down look. Another one of those quaint single-screen small-town theatres which are running empty. Who wants to go to a single-screen and pay for tickets when you can watch films on your smartphone? Deepak Talkies in Chitrakoot and Lakshmi Talkies in Tikamgarh are among other iconic theatres that have now been converted into spaces that are used for weddings (an evergreen business model) or remain spookily abandoned. 
Theatre owners are unable to break even in this business. "People no longer have the time to come to a theatre", claims Vipin Kumar Chauhan, the owner of Kumkum Talkies. For Tikamgarh's talkies owners, it's the roaring business of downloaded movies to which they have lost out. "People can download a movie within one hour of its release", why would they come to a theatre? People prefer to watch movies at home and on their phones, at their own convenience. "People no longer have the time to go to a cinema hall", says Rajendra Sharma who is among other people in Panna that have stopped watching movies on the big screen. Asha Girdhar and Nisha in Panna haven't been to a theatre for over twenty to thirty years now.  "Why to go when we can watch movies on TV at home," asks Nisha. Gulab Singh reiterates the fact that people in small towns no longer cherish the big screen experience, "the talkies craze is now over". "It's the same movie on the phone and TV, only smaller in size." 
The shift to digital has made running the theatre business in small towns challenging. While the easy and cheap access to downloaded movies is the major factor that's making cinema businesses unsustainable, it's also the cost of running a theatre that people are unable to meet. In bigger towns, the arrival of multiplexes has eclipsed the smaller single-screen theatres. But this kind of investment is not available for small towns with limited paying capacities for entertainment. Renovation and upgrades are expensive and with few viewers coming to big screens, the business of running films in small towns is nearly over.    
Despite the stiff competition from multiplexes and mobile phones, Kumkum Talkies owner Vipin is optimistic. He hasn't yet closed down the theatre. Tickets at Kumkum Theatre are priced at Rs. 70 for Balcony and Rs. 50 for Gold Class, nearly half of what multiplexes charge in bigger towns. Vipin is also hopeful that big budget films will keep the theatre running. "Salman Khan's movies like Baaghi 2, Padmavati and Bahubali brought a lot of people to Kumkum talkies." While we wonder if women and families no longer consider cinema halls to be spaces for safe entertainment, Vipin says that there's separate seating for women and men are not allowed to smoke inside; he also ensures there's no untoward incident inside the theatre!  
– Shalini Joshi
This Khabar Lahariya article first appeared on The Wire.