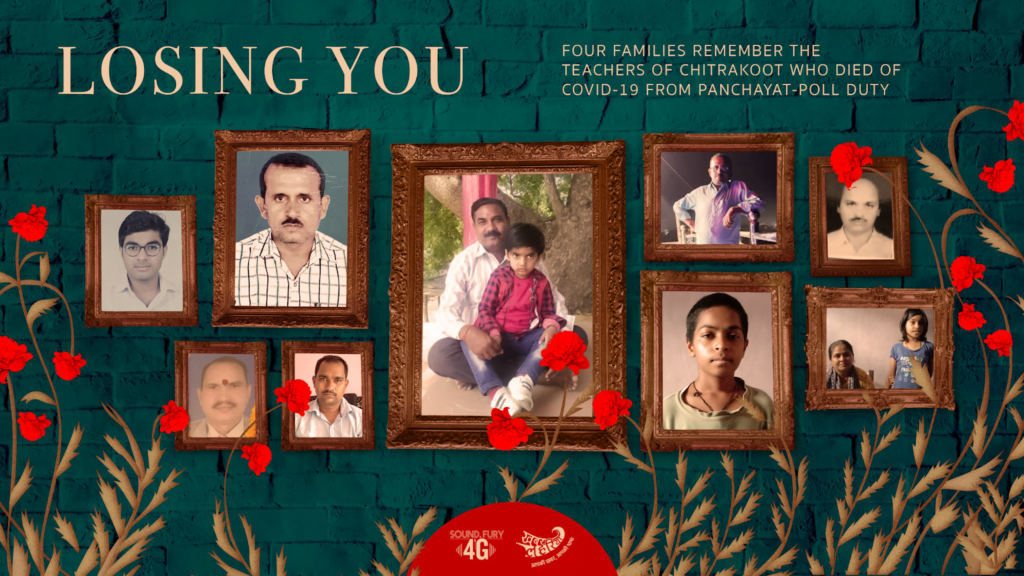 There is a very Indian dream. You work until 60 at a stable, preferably sarkari naukri (government job) you don't enjoy. You put your salary towards ensuring your children have everything they need. An education, tuition classes, entrance-exam coaching… whatever it takes to guarantee the next generation has it better. It's the dream depicted in LIC and life insurance ads. In the dream you retire having lived a respectable life, with your children successful, in life-trajectories you didn't even see in your wildest dreams. You retire, and then finally, you get to do whatever you want. 
This very Indian story is a story about dreams deferred. Mr. Ram Moorat Yadav was one such man, his son Arpit Kumar recalls. "Shauk unke bahut saare the par woh sab bhavishya ke liye talte ja rahe the — jab mere bete safal ho jayenge tab main sab poora kar loonga (He had many interests and dreams but they were all postponed to some future date. He'd think, when my sons become successful, then I will fulfill all my own dreams)."
He was a government school teacher posted in the Bakta Khurda village middle-school, Pahadi Block of Chitrakoot for Uttar Pradesh's panchayat elections conducted over four phases in April, where nearly 1.3 million candidates campaigned for 800,000 posts. In an earlier episode Panchayat Polls in the time of a Pandemic, we described the stakes of panchayat-elections. While the national capital ran out of oxygen, as many as 300,000 teachers and shiksha mitras in neighbouring U.P — one of the worst hit states with significantly poorer health-care — were forced on election-duty under threat of losing their jobs and facing FIRs. The panchayat elections are designed as a demonstration of how power should flow — ground-up, to fulfill essential needs such as education and health infrastructure of people in the villages and small-towns, on whose backs India's dreams are made. Instead power flows top down, demonstrated in the way elections proceeded, flouting safety protocols despite it all — something Chief Minister Adityanath has blamed on the Allahabad High Court. This criminal and convenient apathy left behind devastation among those whom this lumbering, many-footed system does not consider important. 
Mr. Ram Moorat Yadav died at 44 — one of the thousands of teachers who died of Covid-19, having been forced to attend training, vote administering and ballot counting at the height of India's Covid-second-wave. His dreams, indefinitely deferred and denied. 
Dinesh Sharma, president of the Uttar Pradesh Primary Teachers Association told Al Jazeera that his association sent several letters to CM Adityanath and the state election commission expressing safety concerns, asking elections to be postponed and warning of a disastrous situation. "Nobody listened," he said. On 28 April the Allahabad HC took cognisance of 135 reported deaths during panchayat-duty and directed the State Election Commission to immediately take safety measures, observing that the EC and police derelicted their duties to protect people and asking why state officials should not be prosecuted. Counting ended on 2 May. 
The U.P Primary Teachers Association sent a list of victims to Adityanath demanding ex-gratia compensation of 1 crore for bereaved families and provision of government jobs for dependents, a demand supported by the Indian National Congress Party. On May 12, the Allahabad HC decreed that the state government must grant the amount as ex-gratia compensation to the polling officers who died due to COVID-19 during and after the elections. "It is not a case that somebody volunteered to render his or her services during election but it was all made obligatory to those assigned with election duty to perform their duties during election even while they showed their reluctance," the court said. However, the state government claims only three COVID-19 fatalities among the teachers deputed as polling officers. Further the actual amount of affixed compensation has been 30 lakh. 
In this season of pervasive, endless loss, how do you map the territory of grief? A death is not just about those who have departed, their traces now in memories and garlanded photo frames, death certificates, forms claiming compensation and measuring the financial worth of a death that occurs between the qualifying cut-off dates. A death is also about the dreams unlived and dreams deferred — both for those now departed and those left behind. 
Over one thousand of the deaths in U.P., apparently marked as praiseworthy for its management of the second wave, were those of government-school teachers. Of them, seven belonged to our familiar bylanes and homes in Chitrakoot.  Of these, the government only acknowledges 6 as deaths due to panchayat-poll duty. Khabar Lahariya spoke to four of the bereaved families.
Rohani Prasad Shrivastav — 45, Ramnagar

A teacher since 2011, Rohani had begun teaching in Badausa, then Jabrapur, and finally in Kalauni Purva, Sarduha village where he was posted at the time of his death. He leaves behind his wife, Agama and their two children — a girl aged 11 and a boy aged 12. Rohani was the youngest of four brothers from Ramnagar, the rest of whom were outside U.P. working service jobs in pursuit of brighter futures elsewhere.
Prior to election-duty he was tested as per protocol and the result was negative. On 18 April while on election-duty, he began to feel so dizzy he could not stand. He was finally given leave to return home when he fell down in a faint. "Sardi, zukhaam, bukhaar tha (He had a cold, cough and fever)," Agama recalls. On the 19th he was still walking around, taking basic medication for fever, on the 20th he visited the doctor and was recuperating at home. Over the next two days Agama took care of him and fell ill herself in the process. On the 23rd Agama's brother came to get him treated and tested again, at the Covid-centre in Karwi. When they reached the hospital it was shut and the Emergency-room staff suggested after examination that they return the next day. By then he had deteriorated irreversibly. "Main samajh bhi nahi pai thi ki kya dikkat hai. Jaanch aane se pehle hi khatam ho gaye (I didn't even understand what the problem was. 
By the time the second test-result arrived with a positive-Covid test result, he was already dead),"Agama says. 
When he began to feel ill while on duty, he had tried to get relieved, but the authorities at the school were immovable, Agama told KL. After he collapsed he was relieved. "Phir vahin apne gaanv ke jo rehte rahe hain, kadha vadha diye pilane ke liye, thoda sa rahat mila (The people from our village there gave him some kadha — a herbal concoction of spices in boiling water — which gave him some relief)," Agama says. The person on reserve-duty was given charge of his basta and he returned home alone by 7pm. 
Agama recalls his dreams as simple: bachhon ko padhana hai, life banana hai, makaan banana hai, jameen vameen khareedna hai. (get the children educated, make something of life, build a house, buy a piece of land).  "Unko teachery line pasand nahin tha (He did not like the teacher-line of work)," she says, her mouth twisting into a smile. "He was pressured into it by his family as his elder brothers said he should become a teacher like his mother — keeping a respectable vocation within the family."
He liked having a certain standard of living — having his children dress nicely, travel in a "chaar pahiye gaadi" (four-wheeler). Agama says, "These were his dreams." 
Rohani's life and his manner of death bring uncomfortably into relief how even the option to dream outside one's limited options are hemmed in. The fact that he had to hit the ground to be let go in extreme illness, speaks to the little dignity afforded to those labouring to carry out the rituals of democracy. That he was given kadha instead of admitted to a hospital immediately, speaks to the dim ignorance in which swathes of the country have been cloaked — actively egged on by the ministry of AYUSH, and health minister Harsh Vardhan who propagated the use of quack-pseudo-drug, Coronil that benefits Baba Ramdev's enterprise Patanjali. The fact that the hospital was shut and he was turned away by the emergency-ward speaks to the trifling primary health-care in rural India. That his basta was passed on elsewhere and that teachers around him were not let go and quarantined immediately illuminates how Covid-19 spread and took the lives of teachers on panchayat-poll duty in dangerous ripples. How many more teachers fell ill because the authorities would not allow a dying man to leave?
Rajendra Dwivedi — 56, Taura

Jitendra Kumar, the youngest son of Rajendra Dwivedi spoke to KL, in a blue-collared office shirt, seated on a paisley sofa against the pink walls of his home. A child in the house screaming periodically interrupted his conversation with KL. He continued, undisturbed, having picked up the mantle his father had left behind.
Rajendra had been a teacher at the Composite School Nandi in Pahadi block since 1996. On 9 April Rajendra attended training for the panchayat-elections. That was where he got infected, Jitendra says. On the 12th he was tested per protocol at the Primary Health Center, and reported for duty on the 18th at Parsaunji. On the 16th his RT-PCR test result returned positive. 
He was treated in the Sonepur district public hospital and then at the Surendra Agarwal private hospital on Station road. He died on 22 April as his oxygen levels deteriorated ("cylinder khareeda par usse zyada profit nahi hua — we bought a cylinder but it didn't really improvehis condition"). Besides his wife, he leaves behind two sons and a daughter — all grown and married. "His dream was to see his grandchildren educated and doing well — that's all the work that was left. Everything else, my father had already fulfilled," Jitendra says. 
Jitendra was given the same government-teacher job as his father as a form of compensation from the government. He joined the Primary School in Gosainpur, Pahadi block on 14 May, near the school where Rajendra Dwivedi used to teach. "The education department has expressed the possibilities of compensation, what else can it do?" Jitendra says. The paperwork for compensation has been filed online, and pension fund processes are underway. The local administration i.e the DM has accepted that it was a Covid-death due to election, something it is refusing to acknowledge in all cases. 
When KL visited the Primary school in Nandi where Rajendra Dviwedi had served till his death, it was empty of students. Outside on the school boundary wall, murals including children demonstrating various yoga poses, exhorting you to practice them for your good health.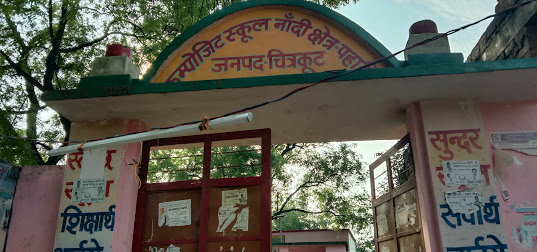 Ram Moorat Yadav – 44, Shankar Bazaar, Karwi

Ram Moorat's 20 year old son, Arpit replied curtly in English to KL over text on his late-father's phone: "We are not in the condition that we can give interview to anyone. My mumma is still depressed, we can't take more risk." He agreed to speak to us over the phone himself. 
Ram Moorat reported for election-duty on 19 April, was tested for Covid on 21st and isolated at home for three days after his positive test result. As he deteriorated, he was admitted in the Banda Medical College ICU where he died at 44 years old, having taught for 14 years.  
He was posted at the middle school in Bakta Khurda village, Pahadi block at the time of his death. Like others, he had tried to get his election-duty cancelled. Some of Arpit's friends' fathers had not gone for duty when their duty was not cancelled.