No wedding's complete without it, and to some, it's an ancestral profession. Meet the mandap makers of Jhansi.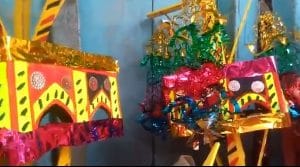 Rajesh of Ghas wali Mandi, Jhansi says he has been making mandaps since before the time of the Rani of Jhansi. 'This is a profession passed down over generations, not just something we started doing now,' and if we were not already blinded by his skill and vibrant wares, we are suitably impressed with his marketing.  
If you haven't attended a wedding in south-eastern Uttar Pradesh lately, late May to early June is the right time to don your new choli cut blouse, learn the latest DJ-mixes, and loosen your drawstrings to accommodate the best of Bundelkhand's shaadi fare on buffe(r/t, as your dictionary decrees).
So what if you can't see for sweating. The colours and the tamasha, and the variety of the bridal parties' hair and make up will make you instantly forget.
If it doesn't, the mood-lifting hand-painted mandaps strewn across the baraat, swaying to the irregular beat of a cracked DJ's speaker – definitely will. These are a well-known part of the creative economy of weddings in Bundelkhand, and Khabar Lahariya went door to door in Jhansi's famed 'ghas wali mandi' to speak to some of the artisans carrying the flag for local wedding arts and craft – in the face of sundry modernisation.
Rajesh's neighbor Rani, against a distracting mural outside her house, is at work, demonstrating some striking yellows and reds on the mandap she is painting. We'd say she was showing off a little, if her smile wasn't so endearing, or her work so sincere. 'It takes four colours, plastic, cellophane and making these little windows (khidkis) you see – to make one mandap.'
Bhaggo Devi, who should be kicking up in retirement bliss on a charpai somewhere, says she can make from 10 – 20 mandaps in a day, if the season demands it. Each sell for 150 rupees.
But like everything else, these colourful markers of wedding processions in Bundelkhand have a short shelf life. Says the voluble Rajesh, 'Weddings used to happen from people's houses, and much time and money was spending painting the walls and dressing the house right up. Now people are spending on wedding halls and baraat ghars, so there is no decoration of the house. And soon, the mandaps that people from far and wide would come to get in Bundelkhand, these will go too.
But mandap-less weddings are a while away. In the blinding sunshine of a May afternoon, Avdesh Kumar has come all the way from BHEL to mandap shop for a summer wedding in his family. There's no wedding without, he says, happy to have his purchase of a resplendent (because we don't want to say garish, given the mood of the day) all captured on camera.
– Disha Mullick
This Khabar Lahariya article first appeared on The Wire.