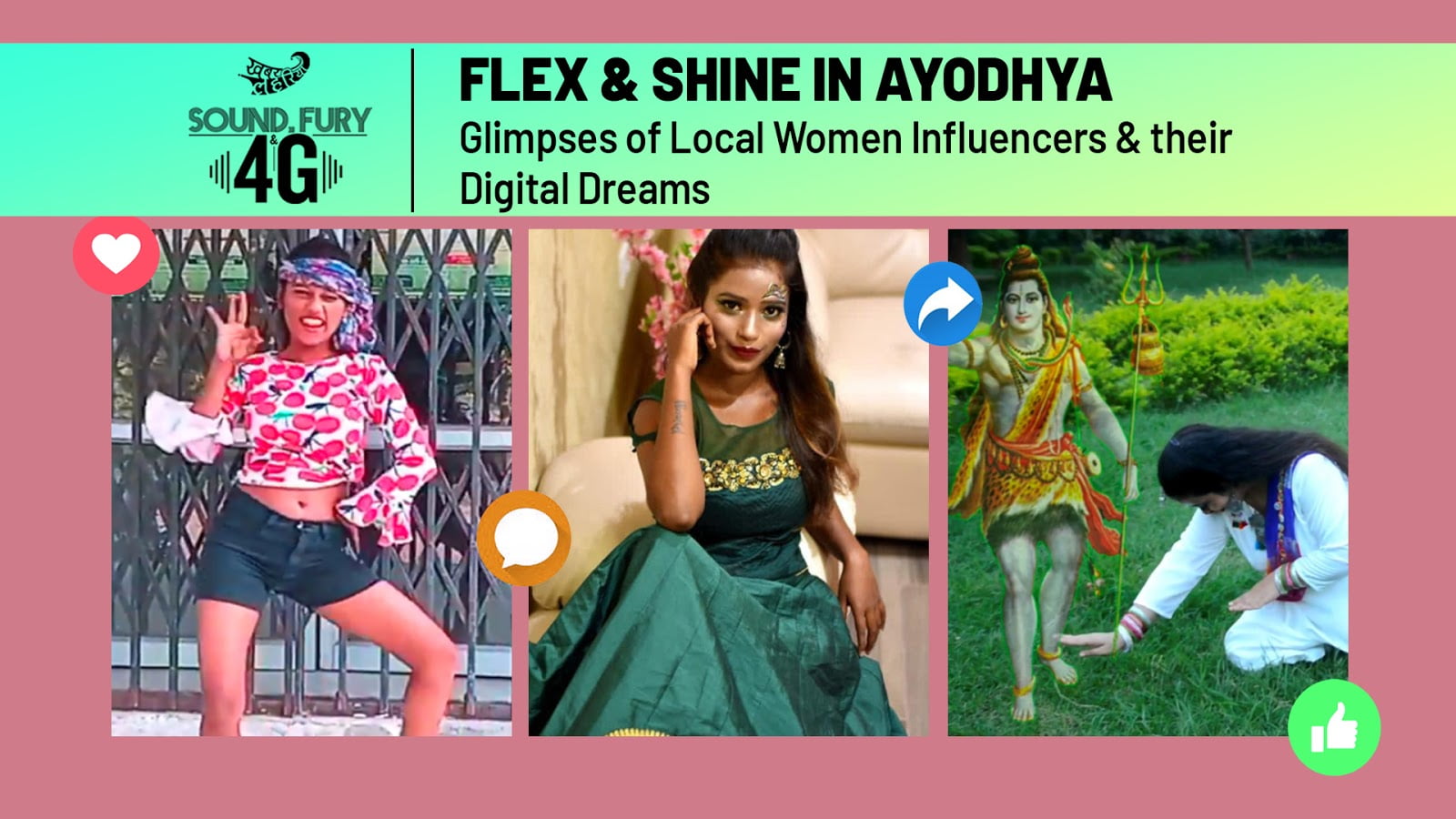 In July this year Ritika Gupta of Ayodhya-Faizabad, as she calls her home of hyphenated identity, had a million followers on TikTok. She had finally figured out how to convert the money her Likee account was generating to rupees but you already know what came next — the "master stroke" banning 59 Chinese apps. 
Still, as a dancer Ritika wasn't reliant solely on the convenient lip-sync loops. A mentor helped her set up a Youtube account, and she became Ritika Gupta dance. By far the most compelling of her Youtube videos is a performance riffing on the popular Bhojpuri track, 'Lollipop Lagelu' (Looks like a Lollipop). Blurry shots of blue and red fairy lights at night usher in Ritika dancing slow-mo to a 'cleaned up' remix of Lollipop — like the romance of Arijit Singh with Autotune dialed up. Suddenly the music halts and Ritika pouts, lip-syncing exaggerated ire: Oh Uncle! Gaana kyun band kiya? (Why did you stop the song?) 
Explains the unseen uncle, Beta, dance karne ka jo maja original song mein hai na, woh isme thoda kam hain. (Child, the fun of dancing to the original song, is a little less in this version.)
Achha aisa hain, Ritika says. Toh baja diyo! (Oh, it's like that! Then play the song!)
Cut to Ritika with a dupatta tied around her head, dancing in full josh to the triumphant synths blaring the intro of the song, the chorus trills: 
Kamariya kore lopalop, lollipop lagelu  (The waist moves like lop-a-lop, it looks like a lollipop). 
Ritika embraces the brazen innuendo of the song fully — embodying somehow both the lecherous man and the woman (object?) of his desire. It's easy to forget she's only 18, dancing in a crop-top in Adityanath's Ayodhya. 
Ritika is of the demographic meant to be digital natives in a New India supposedly saturated in 4G — Gen-Z by a desi name. However the digital and physical realms continue to be contested spaces for girls and women, with intersecting dangers and pressures — even as possibilities for pleasure and progress open up. 
In the non-metro cities and small towns of Uttar Pradesh, the manner and extent to which digital space is occupied by women is markedly different from the arc of fashion vloggers like Komal Pandey or Diksha Rawat on Instagram. To begin, there is the gendering of access to tech and the internet. Only 29% of India's internet users are women, and only 28% of women own mobile phones in comparison to 43% of Indian men.  In the majority of rural households in Bundelkhand, Khabar Lahariya found that parents did not allow girls to have mobile phones while in many cases, giving one to the younger brother. Even on KL's Facebook page, our audience is split into 85% men and just 15% women followers. 
Ritika, who dreams of being an actor, and makes a living through performing and teaching dance, recalls the start of her aspirations in school. "I used to see the models doing the catwalk on TV and dressing up," she says. "I love, love, love all of it!  
When you ask her whose choreography or dancing inspires her though, she looks blank for a second before she falters saying, "Madhuri Dixit… woh ma'am achha dance kar leti thi. (Madhuri Dixit… that ma'am used to dance well.)" It's evident that it's the idea of stardom, more than the love of dance as an art-form in itself that is enticing to her. 
For many like Ritika, who find the idea of stardom and glamour a heady prospect, TikTok was a taste of this life. With its short videos, easy user interface, and easy-added production value, occupying digital space and a piece of the popular imagination became significantly easier. With the gaping hole of its absence, the space of glamour and imagination snatched away, it becomes imperative for users like Ritika to reclaim that in some way. The Internet Democracy Project argues in a 2017 study that in India mobile phones make it possible to develop new ideas of the self, explore and exercise autonomy and agency. 
While popular culture narratives are dominated by the seamless gloss of Instagram Reels (as all tech platforms slowly mutate under monopoly to become each other), users like Ritika find that their dreams of a better life are entwined with their digital selves/brands — and make inroads to figuring out which space will welcome them. 
The choice of platform too is impacted by gender. In Bundelkhand, the local audience here is more active on Facebook or Whatsapp as compared to Instagram, says KL social media manager, Harshita Verma. Most people add everyone to their personal profiles where they post their views on everything from memes to politics, and engage with each other. Here, it's mostly men who have become prominent enough on Facebook to be considered 'influencers'. These are often professional or self-styled journalists sending out pdf newsletters about local affairs, or involved in social work or politics in some way. 
For Ritika, the content she posts can be perceived as suggestive and Facebook therefore becomes a fraught space. In contrast to the male local influencers, she doesn't respond to messages from people she doesn't know. "These men often want to meet up," she says. And so, even on the occasion she posts a video, there is not as much engagement from her "fans". Perhaps the word 'fan' provides a certain distance from the otherwise unknown men commenting "Sexy lag rahirhi ho" (You're looking sexy) on her profile pictures where she's dressed as a bride, looking nearly unrecognisable in a face turned near-white with makeup. Ritika's bio on Facebook reads: 'Model girl🥰 🥰 Single life best life'. Warning or teasing, hard to tell.
Youtube on the other hand, provides a safer distance at which to dub people "fans". So where Komal Pandey posts an Instagram reel of herself in 5 different high-fashion outfits with her similarly high-fashion boyfriend to the euphoric end swell of 'Kalank' — Ritika, drawn similarly towards stardom makes the leap from TikTok to Youtube as her primary platform, dancing to 'Don't Touch My Hand' from Bhojpuri top hits of 2020.
In reel life: