"We now have 24-hour electricity supply. This was not the case before the Modi and Adityanath governments," said a resident of Jayapur village in Uttar Pradesh's Varanasi district, adding: "Our crop production has increased because of the power supply for irrigation." The village is hardly 30 kilometers away from the holy city of Varanasi, renowned for its sacred ghats at the banks of river Ganga, and also for being Prime Minister Narendra Modi's Lok Sabha constituency.
Another resident excitedly pointed to the newly set-up offices of Syndicate Bank and Union Bank of India in the village, and the steel benches in open spaces, inscribed with 'Narendra Modi.' Jayapur is one of the four villages adopted by Modi during a drive which began in 2014 under the Sansad Adarsh Gram Yojana. The other three are Nagpur, Kakashi and Domaria villages, all located within Varanasi district.
While those residing on the edges of Jayapur village admired Modi's adoption drive, claiming that everyone now has a toilet and pucca house, the interiors had a different story to tell: of broken down mud huts, toilets and kutcha roads.
Harishankar, a local residing here, had this to say: "There are no roads, drains or water supply facilities. Development has touched only the edges of this village where the Patel, Kumhar, and Lohar (OBC) communities reside. Visitors need to also enter and explore the insides. Look at the state of the Harijan Basti. Even the toilets are non-functional here."
The Harijan Basti is the area earmarked as the settlement belonging to the Dalit/SC community. Jayapur village is a case in point for the BJP regime's disregard for Dalits and minorities. Nationwide, it has been more visibly documented through instances of extreme violence such as mob lynching and murders. There have been 90 recorded deaths due to mob violence since 2015 – targeted at both Dalits and Muslims.
However, not enough attention is being paid to the fact that entire communities are being overlooked when it comes to development and welfare schemes.
We spoke to more residents at the basti. Premlal, another resident here, admitted: "I felt hopeful when the works were initiated. But most of it was left unfinished or was stopped midway because [the money] went into the pockets of officials."
The most striking sight here is of the mud houses falling apart. Suman, who has been residing in one such half-broken house, said: "This could break down, even more, fall on us, but we're still living here for the past three years – when the damage first began. Not once has my name come on the Pradhan Mantri Awas Yojana lists despite having requested the pradhan."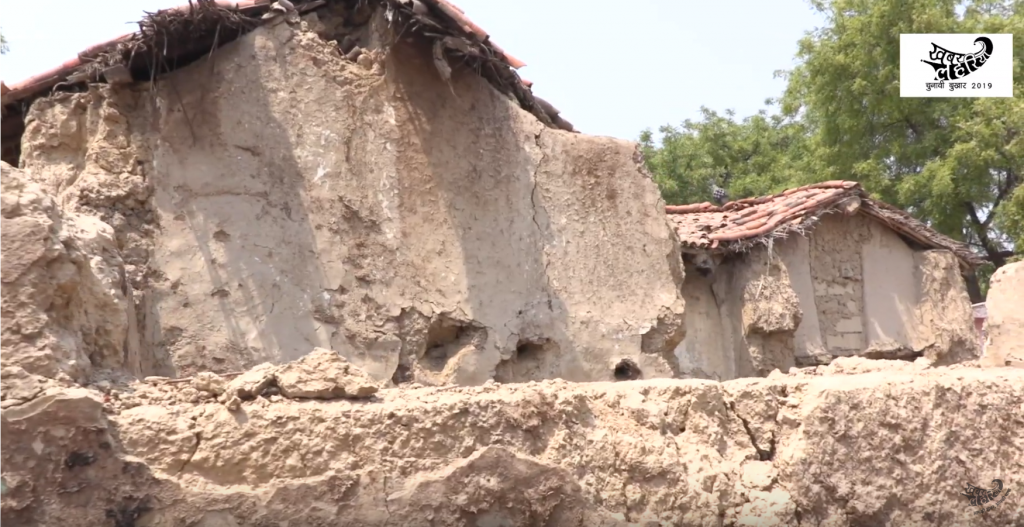 Sanjay Kumar, whose kutcha house is in a similar state, and who has also been applying for the same scheme, says: "My name has appeared on the list three times but the money never came. Once some officials arrived and said that I'll receive the funds if I make a payment of Rs 10,000."
Wasn't this a shameful occurrence, especially in the PM's adopted village, we asked him. He fired up in response, "Yes, Jayapur is adopted but the village exists only at the Patel and Thakur bastis for Modi Ji. Even this area is a part of Jayapur, but he and his people don't look at our side. As for vikas here, you can see some run-down toilets that now resemble a graveyard".
They indeed did. Rajesh Kumar, another resident, said, "The toilets that were put up were of a portable box-type, ready-to-fit variety sent from Gujarat. They got damaged after the first rains." These made-in-Gujarat toilets, made of fiber-reinforced plastics had been laid-out, without bias, for all the village households.
Now, most of them have broken down and some subsequently removed from their spots. Kishani, an aged resident of the village, showed us the pit left behind by the bathroom that has been long removed from her household compound. She now washes utensils at the same spot. Usha, another resident, admits that her family has gone back to the old ways of open-defecation in the fields. As for the non-Dalit households, they have managed to construct better quality brick toilets through funds provided by the Adityanath government.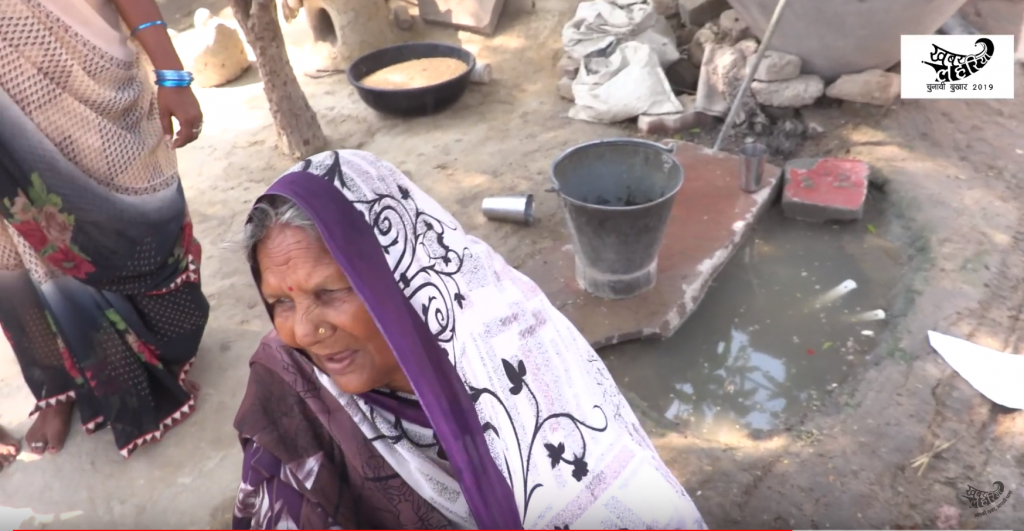 The verdict regarding Modi's development work may vary among communities in Jayapur. But indisputably, the work that may have begun in earnest years ago is now half-done or on the path of destruction – most evident in defunct toilets and solar panels. As for water supply, Rajesh Kumar had this to add: "There were three bore wells constructed under the Jal Nigam scheme. But the connecting pipes were of poor quality and it's of no use."
Most importantly, development initiatives had ignored an entire section of the populace in this 'model' village. It deeply resonated in Harishankar's remark: "Whether you are a pradhan mantri or a Grameen mantri, you need to look at everyone with the same regard."
Some like Ramraj, however, question his entire model of 'adopting' a village: "Close all these schemes and start a factory for gainful employment for all underemployed laborers and farmers, instead of a model like throwing bread to the dogs near election time".
This Khabar Lahariya Article was first published on The Wire.