From inside the deep bowels of a dark news report that went unreported, Khabar Lahariya pieces together a story of demolition and ambition, complicity and crisis
It was approximately around the proverbial devil's hour in the first week of last month, a few hours before the sun rose on a day the destiny of which had been writ in stone – literally, as a foundation-stone laying ceremony of a place of worship – that another place of worship in Uttar Pradesh was demolished.
"You must be mistaken, Madam. Galat fehmi? (Misunderstanding?)", we were told when we reached ground zero later in the a.m. on August 5, by one of the young cops stationed there, even as we tried to mask what one could call a reflex action – shock, closely followed by fear – at setting eyes upon a bare piece of land where once stood Medina Mosque, "Yahaan koi masjid nahi thi (There was no mosque here ever). Must be some other place you're getting confused with?" Even as the chants of Jai Shri Ram had been reaching frenzied heights in Ayodhya, even as Prime Minister Narendra Modi was making his way to the site for an elaborate bhoomi-poojan planned by the temple trust in the wake of the controversial Supreme Court judgement on November 9, 2019, we were speaking to police personnel just off the Kanpur-Sagar highway in Mahoba, having followed a lead from the local crime beat check-in we do on a daily basis that told us all personnel had been deployed to maintain law and order at the site.
As we went across the road to take a few pictures, given the stand that the cops around us seem to be taking, we couldn't help but notice the graveyard-like silence that seemed to have enveloped this little piece of land. The shops adjacent to the mosque – in keeping with the business that sprouts from the practice of religion – had their shutters down. Some had locks on them, and there were no civilians around. "Maahaul abhi thoda theek nahi hai (There's an unsafe vibe here at the moment)", we were told again helpfully, this time by a fellow peer practicing his favourite kind of mansplaining as he took pictures alongside us, of the once-something-now-nothing in front of us. But we already knew that, unlike him, we would not be filing this report in a tearing hurry. Eyeball-grabbing what's app forwards masquerading as news updates might be the preferred style of newsmakers here – and we would argue elsewhere – but we've always been the exception to the norm. And no amount of 'Sangathan ko mila insaaf, girayi gayi masjid' news flashes were about to change that. We can write those headlines in our sleep now – for real, they are the stuff of our nightmares
Sure enough, closer to 6 pm on the day, when the Ayodhya celebrations had all but subsided, there was an explosion of media around the incident across smartphones in Mahoba, and also the neighbouring districts of Banda and Chitrakoot. The most popular – read largely considered the most truthful – story was that there was no demolition demolition, that was all hysteria! What had really happened was that the mosque had to be razed down to the ground as part of the highway widening work. It had all been part of a plan – a pre-determined one that had taken the mosque's maulvi into confidence as well as the faithful who prayed there – long-in-the-making. The date was purely co-incidental, it had nothing to do with what was happening in another district of the state; in fact, none of this had anything to with religion or the fraught minority-majority dynamics that take the rest of the nation by storm but have never really flared up into violence in Bundelkhand. What's more, a Hindu temple on another highway, had also had part of its structure broken down, for the exact same reason. The devotees of that temple are no less devout, went the argument, they just know not to stand in the way of development.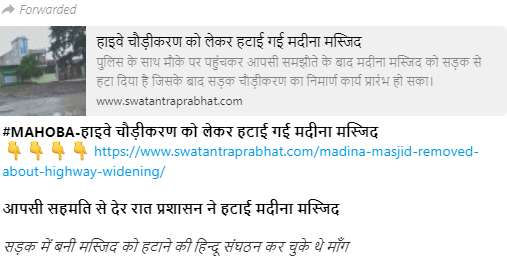 Some of these devotees, members of the local Bajrang Dal unit, had been pouring their love for vikaas all over their social media accounts lately we found, as we went about reporting offline and online over the next few days, keeping the identities of our sources and those in the community who chose to speak with us – seven in total – secret. In the context of the Medina mosque in Bhatipura district on National Highway 86, popularly known as Kanpur-Sagar highway (a 674-km stretch that connects Dewas in Madhya Pradesh with Kanpur in Uttar Pradesh), there had been an active social media campaign, largely carried out over Facebook by the Hindutva outfit, which had demanded the mosque be brought down just like the temple on NH35 (a state highway covering Kabrai, Banda, Karwi, Mau, Allahabad, Mirzapur & Varanasi), popularly known as the Mirzapur-Sagar highway. Group members had changed their profile pictures in the spirit of the campaign and our preferred method of activism these days, in a bid to pressurize the local authorities to "do the right thing". Their take on the non-issue was that when the highway expansion plan reached the mosque, the matter had been declared as officially pending. 'Prashasan masjid tudvaane mein nakaamyaab saabit ho rahi hai. (The authorities have proved themselves incapable in bringing down the mosque)', was the line they took, even holding a press conference to this end – one of the gazillion ones we try our best avoiding because there is so much machismo-chest-beating on display, we almost miss the mansplaining – wherein they put forth their demand unequivocally, giving the local authorities a deadline of, unsurprisingly, August 5. 'We will take our protests to the next level if you don't comply,' was the not-so-subtle veiled threat.
The old guard of Mahoba, a district celebrated ad nauseum as a symbol of a past glory of the grand Chandela era, prides itself on a spirit of harmony. Based on the 2011 census, 75.21% of the total population are Hindus, while 23.64% are Muslims, a considerable populace, and according to several of Mahoba's senior citizens, most of the contemporary religious shrines and places of worship have been built on and/or funded by Muslim land-owners. They are of the opinion that it is only the current generation, perhaps disillusioned with the lack of opportunities and employment, who seek "careers in religious fundamentalism". A fiery competitive spirit amongst the hot-blooded U.P. men in the name of religion, nationalism, and general protection of what they perceive as possessions – land, women, cattle, children, in no particular order – is of course achingly familiar to us. 
Meanwhile, we found ourselves shuttling between departments, sorting out jurisdictions, our phones incessantly beeping in pointless rage with the latest Ayodhya-related dope. The most trending ones were centred around pictures of the leader of our nation prostrating before the deity, and a wildly gesticulating Chief Minister Yogi Adityanath explaining how he would be declining an invitation (that was yet to come) to the mosque-in-the-making outside of Ayodhya as part of the Supreme Court verdict, in his capacity "as a mahant". Jai Shri Ram had replaced Good Morning ???? overnight it seemed, just like the mosque that had disappeared. We thought of all the gruesome accidents we'd covered on NH86; the highway has only ever made the news for its myriad accidents featuring overturned trucks and mangled bodies, what the mainstream press likes to call 'yamdooton ka gadh' (death central). There have been accidents due to stray cattle, accidents due to drunk driving, and recently, also a COVID19-lockdown-induced depression party night under the bridge by the Betwa river, which ended in suicide, or was it murder? 
Things can really change in a U.P. minute. Usually for the worse.
It turned out that since all national highway-expansion-renovation work does not fall under the purview of local authorities and the Public Works Department officials had only visited twice, word on the ground needed to be documented. We went to visit the local community and its leaders. It took them a few days to go on record, albeit with the caveat of guaranteed anonymity, but they shared with us the details of the flip side of this story. Yes, there was highway expansion, and yes, portions of the mosque had to be chipped away. The agreed-upon figure, after a few rounds of discussions, had been 11 feet. The mounting pressure, fuelled no doubt in tandem with the unfolding of events in Ayodhya, however saw the local authorities back into negotiation mode with the mosque guardian Sayeed Lambardaar. On August 3, district-level officials Ramsuresh Varma, Rajesh Kumar Yadav, Jatashanker Rao, and Balkrishna Singh conferred with Lambardaar, long after the PWD engineers had left for presumably Lucknow, telling him that 11 feet was in fact, too little. Upon Lambardaar's request, it was then decided that the final mark indicating upto where the highway expansion was intended, would be inscribed on the mosque and that they would reconvene. The matter was temporarily officially pending.  
Within 48 hours of this meeting, the mosque had been demolished, its malba (rubble) allegedly dumped in the well close to the site – a well that had long served its role of being a blessing of sorts, as a source of cold water.
Our meetings with the local Mahoba police personnel since haven't fared any better than the brief encounter we had during the morning of August 5. When we went calling on Veerendra Kumar, Additional SP, he expressed surprise, citing the local mediascape, "Nobody else is asking me questions about this. Why are you working on this?" SP Mani Lal Patidar, who ranks highest in the department, at first declined and then downright refused to meet with us. He'd been extremely busy in the run-up to the August 5 bhavya event at Ayodhya we'd learnt, immersed in official preparations around the maintenance of peace in his area. If Mahoba residents planned to travel to Ayodhya, they had to have invitations, he'd been told. After all, what happens in one part of U.P. has ripple-like effects in other parts, was the official line, parroted minus irony or self-awareness, we reckon. Chanelling a no-rest-for-the-wicked vibe, he'd soon after immersed himself into the run-up to Independence Day preparations – according to the enthusiastic reports of our fellow media peers. There was a grand award ceremony planned on August 16, for one. This was to honour several of the officers in his department who had recently displayed exemplary behaviour and admirable bravery. They were certified as 'Corona Yoddhas' (warriors) and also as the hallowed peace-keepers of society.
As we continue to question and unravel many a galat fehmi, NH86 continues to stay busy. Through the wee hours of the nights to follow, news of the mosque demolition has gone cold. And our phones continue to ping Jai Shri Ram every morning since. 
We never thought we'd say this, but we sorely miss the sunglasses emoji.
Written by Pooja Pande based on reporting and fieldwork by Suneeta Prajapati & Meera Devi for Khabar Lahariya. Read the news report in Hindi here. 
An edited version of this story first appeared on Article 14.