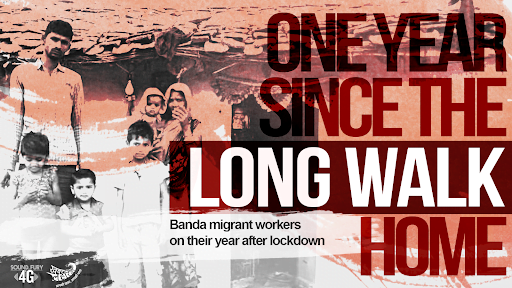 One year ago Aravind Yadav took a very long walk. From Lucknow which had turned inwards into a city meant only for its inhabitants — to Kamasin in Banda, Uttar Pradesh. A little distance away from his village, he was met with a ramshackle college building in a jungle that would keep him captive for the next few weeks. 
Aravind was held in DGIS intercollege — one of the 2,230  quarantine centers U.P. created for migrant workers coming home from mazdoori (daily waged-labour) in businesses classified as "non-essential". These were businesses like construction, painting, tile-work, spice-making– businesses on which India's cities are quite literally built. These were businesses that shut shop after the Prime Minister's surprise-address to his subjects. The people they employed largely worked in the informal sector (comprising the 85 to 94 percent of India's labourers that do so), meaning that when the lockdown was announced, landlords turned them out to the streets, and wages owed for completed work disappeared along with business owners and contractors who switched off their phones.
Meanwhile the government was tightlipped on the subject of how or even when they would get home. So the 20 percent of India's workforce that are migrant labourers like Aravind, had to figure their own roads home. They preferred to die at home if they had to, they said, in comparison to dying in cities that had turned hostile to them so quickly. Unlike many who did die on their journeys home, Aravind made it back to Kamasin. 
Once there the conditions at his quarantine center— uncooked food at odd hours, a mix of mosquitoes, snakes and scorpions as bedfellows, no electricity or sanitation, inadequate water, missing officials — were so bad that several workers ran away. 
Santosh Kumar Gangwar, the Minister of Labour and Employment told the Lok Sabha in September 2020, that a total of 1,04,66,152 migrant workers returned from across the country to their home states during the lockdown last year. 32,49,638 of these workers returned to Uttar Pradesh alone. On the subject of job losses and deaths of these migrant workers he said, "no such data is maintained". This convenient abdication of responsibility would be surprising only to someone who has been asleep to systemic failures that have been the norm in India. 
But still the question lingers: Where are India's migrant workers now? What are they doing one year on, long after the flurry of news reports and masked anchors walking side by side (but only for a little while) have moved on? 
We bring you answers in brief vignettes from five migrant workers of Uttar Pradesh. 
Our conversations with them bore distinct similarities: a learned helplessness and resignation to a country that doesn't care about its poor, exhausted savings, loans and incurring debt to get by, pending wages that were never cleared, traumatic memories of scrambling to get home and quarantine, lack of employment in their villages, government assistance that exists in the news but never reaches their bank accounts, a return to waged-labour in the cities for survival, a disenchantment with the BJP government, and fear of another lockdown as rumours swirl.
"Kuch nahi mila, ek rupaya nahi mila (We got nothing, not a single rupee)" : No MNREGA, no work in the village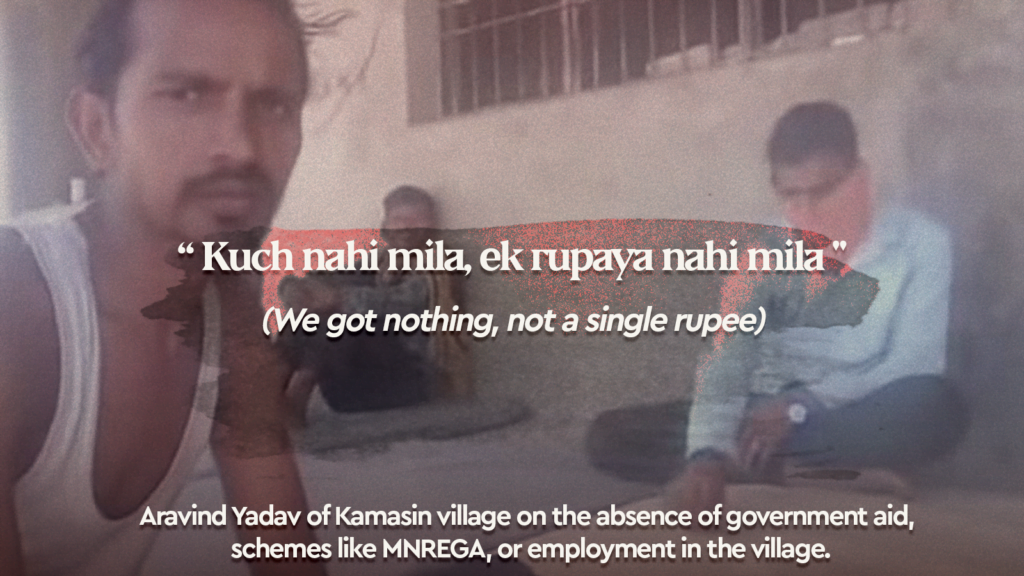 On 23 March, the same day that PM Modi announced the nationwide lockdown to combat the Covid-19 pandemic, we caught up with Aravind again. He is in Pune now, doing stone-setting for tiles, making Rs 700 a day. He has been here since the past five months. The work is going well, he says. 
After his return to Kamasin, he stayed for two and a half months, before he left again to seek work in the city. "Pade the, kaam hi ka hai udhar? (I was lying there, what employment is even available there?)," he says of his time in the village. 
The government had promised support to the returning workers. We asked: Did he receive any financial aid, or employment through MNREGA (Mahatma Gandhi National Rural Employment Guarantee Act), which legally guarantees 100 days of employment each financial year to adult members of rural households willing to do unskilled manual labour in the public sector for minimum wage?
"Kuch nahi mila hai, ek rupaya nahi mila. Bol rahe the form bharo, itna paisa milega, tumhaare khaate mein aayega. Kuch nahi mila! (We got nothing. Not a single rupee. They were saying fill this form, you will get this much money, it will be transferred to your bank account — we got nothing!)," he said scornfully. "They only say on TV and in election speeches that we have given this much and that much!" 
This experience has bred a mistrust of the BJP government in him, for whom he had voted previously. "Inke sarkaar mein kitna gareeb aadmi mar gaya kuch pata chala kya? (In this administration, did we even find out about how many poor people died?)," he said. He won't be voting for BJP the next time around, he says.
"Humari ghar ki sthiti bahut down chal rahi hai (The condition of our house is on the down-side": Called home for PMAY waiting for a bank transfer that never arrives, traumatised by experience in quarantine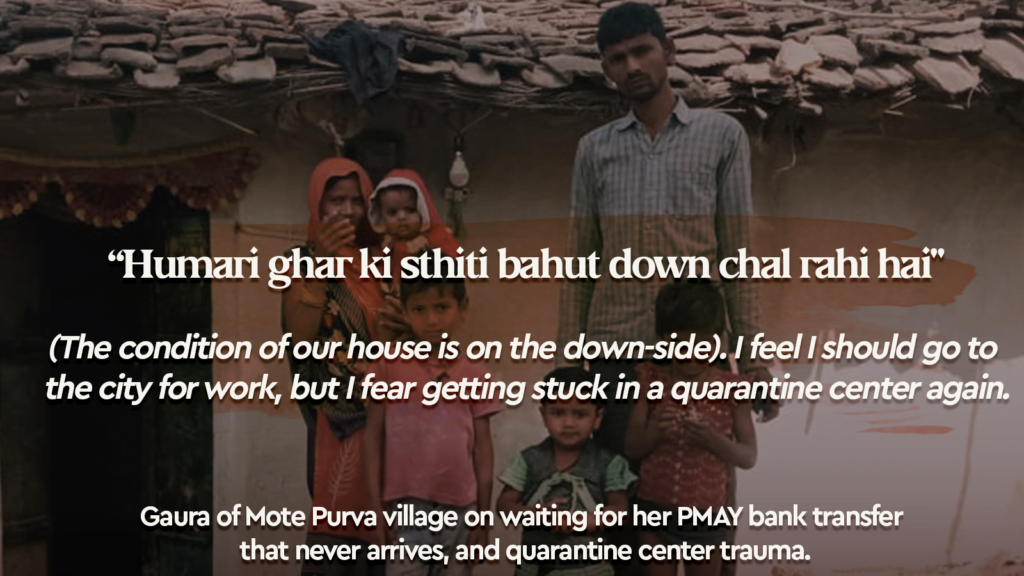 KL first met Gaura of Mote Purva gram panchayat, Pungari when she was six months pregnant, and quarantined last year. Along with other women labourers who had returned from Delhi and Haryana she was at the Kasturba Gandhi Balika Vidyalaya which had been converted into another U.P. quarantine camp of horrors. There was inadequate food and sanitation facilities and no menstrual products. 
Gaura had been dizzy, having just been given her first meal of the day — a cup of tea — in the afternoon. She stayed there for fifteen days. A year later, having delivered a healthy baby boy of eight months who was sliding around her when we talked, she still shudders at the memory. "Remembering that dreadful time, I get scared. When I think of going out to the city again for work — there is nothing here, we even missed harvesting season — I fear that once again lockdown will be imposed, and I'll be stuck in a quarantine center. Then I feel I should stay put. Even though here there's no paisa, no kaam-dhanda, no galla (no money, no work, no aid)." Gaura's family received no rations after lockdown. 
Gaura, her husband and their four children had migrated back to Palwal in Haryana after Navratra (in October) last year. They spent Rs 2500 one-way on a bus. There for four months she and her husband worked in building-construction although their pay was gender-mediated. He would get Rs 600 as a male-labourer and she'd get Rs 400 as a female one. 
Then the village pradhan called. "Bola ki aapka Aawas aa gaya (He said our turn for Aawas had come up)." The whole family returned and went up to Banda to get the Pradhan Mantri Aawas Yojna (the Prime Minister's Housing for All scheme) certificate. Certificate in hand they dug up the location where they would build their house. Three months later, there is no money in their account.
"The Pradhan says it will come today, it will come tomorrow, whenever we go to ask him," Gaura said. "At least when we were outside we were able to earn. Now we realise we came back for nothing."
Bitterly she echoed Aravind Yadav as she remembered, "We had voted for Modi and Jhandi Pradhan (the village headman). That one also won, this one also won. Only we lost."
"Pichle saal barbaad hua, ye bhi saal barbaad hai. Karza se chala rahe hai (The past year was ruined, so is this one. We are living or borrowed money)": Incurring debt to get by and a disappointing government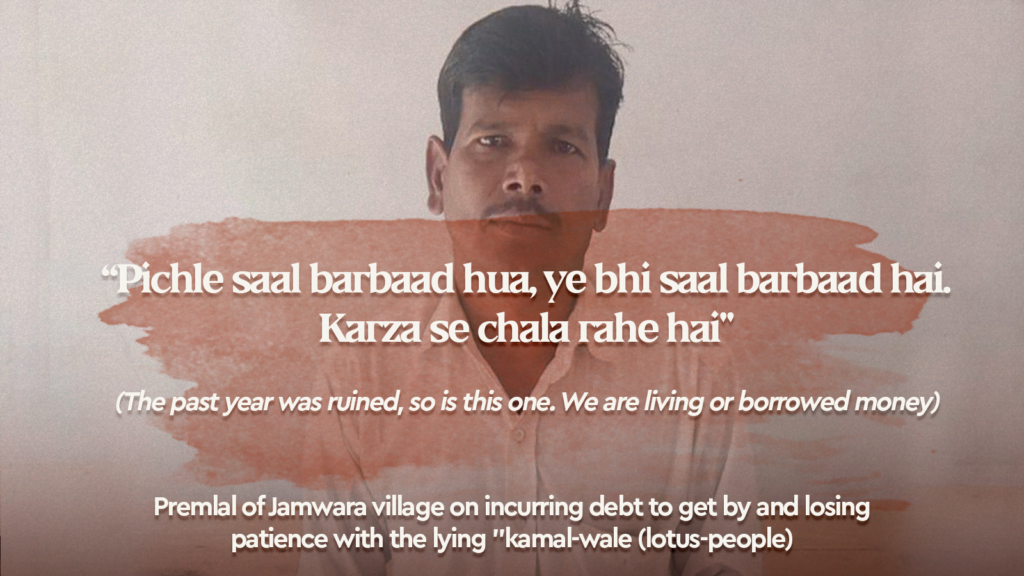 Premlal of Jamwara