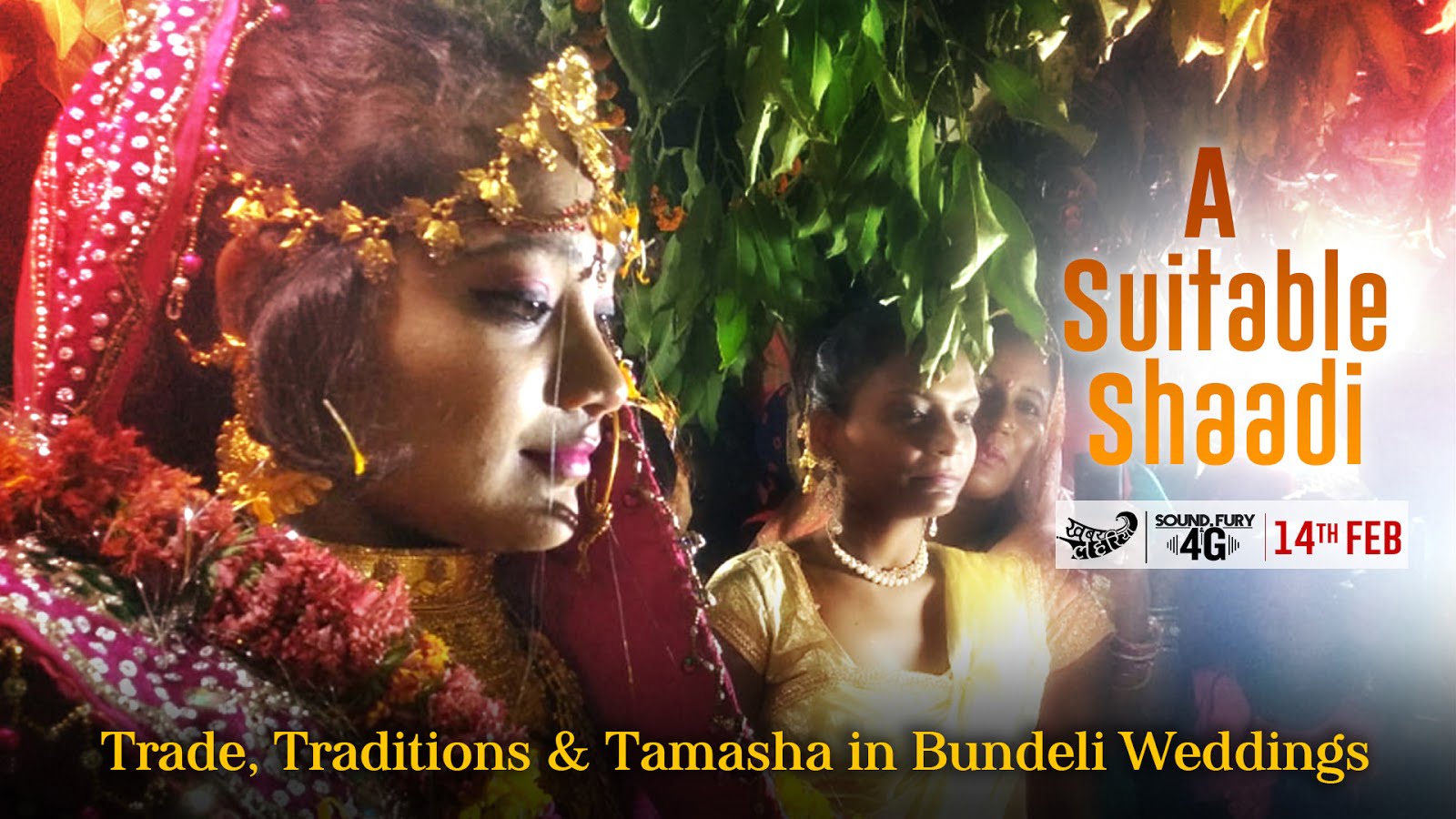 On Valentine's Day, Khabar Lahariya brings you our unruly meditations on the weddings we have known, Bundelkhandi style!
In July 2019 Khabar Lahariya went to a 'special Bundelkhandi wedding'. We recorded it of course, preserving a time capsule against eroding memory. At the start of the video, EIC Kavita and Chief of Bureau Meera shoot the breeze in front of a bougainvillea tree by the festive house, beaming and chatting over how they've been anticipating it. This wedding is a traditional wedding, a 'desi' one unlike the smartphone and Bollywood-influenced ones of recent years that have transformed the lavish weeks-long affair in Bundelkhand to shorter, snappier, buffet-style DJ wale babu material. 
"I had heard of these weddings from my naani, my daadi about their daadis— four generations ago," Meera says. How a sapling would be planted to mark the occasion, how the mandap was made of the bark of trees and leaves, the meals would be small and simple.  "I was eager to see it in real life."  
In real life, the wall of the house is a vivid sky-blue, newly painted before the wedding as is traditional. A woman dedicatedly covers one wall in greetings. She's making a flower, Meera tells the camera as she goes over. It's auspicious. Beside the phool an arrow struck heart sings Rekha sang Kishan which is translated best as 'Rekha with Kishan'. 
Anachronistic, the still heart of a changing Bundelkhand— this wedding was for Rekha, the daughter of a local Valmiki family. This hearkening back to 'simple' traditions is the brainchild of another couple — Pradhan, Sumanlata Yadav, the woman panchayat leader of Khalari Gram Panchayat in Banda and her husband, dating back to about fifteen years ago. 
"My husband has lived this gareebi (poverty), us dard ko unhone mehsoos kiya hai (He has felt the pain of it). So it was his idea that every year we will take on the kanyadaan, the financial and symbolic responsibility of carrying out the wedding of a daughter, of a girl from a poor household. When he asked if I was amenable to the idea, I said yes at once."
They started closer to nature, Sumanlata says. The first year they oversaw the nuptials of a frog and frogess, the second year it was two birds. And with Rekha, this has been their eleventh actual kanyadaan. 
"I feel a complete and immeasurable happiness at this yearly ritual," Sumanlata says. "Perhaps a crorepati might not feel this satisfaction in his lifetime." Meanwhile the bride's father, an old man sits beaming, a heavy bandook in his hand; per ceremony in Bundelkhand, no weddings without bandook (guns), explains Kavita. He confesses that he doesn't remember where it came from.
As is often the case with weddings, some are less happy than others. The bride before the wedding is bright and bare-faced, amid her coterie of friends—schoolmates and neighbours who grew up with her.  "How are you feeling, are you excited for Rekha?" Kavita asks one Aradhna, and she says, solemnly, "Jitna zyada dukh hai, utna sukh nahi hai mujhe".  (The amount of sorrow I am feeling outweighs the gladness in my heart). Then she starts to cry.
Rekha smiles, seemingly unperturbed, the mehendi that her bias (aunties) put on her hands drying. By evening she is transformed into a sparkling gleaming vision in gulabi wedding lehenga, bangles up to her elbows and shimmering with gold and silver. 
Weddings are supposed to be happy days,with seemingly small discontents or irregularities creeping through now and again. 
For one — they are an arena where the primacy of caste plays out most blatantly, with caste-endogamous matches more often than not, a not-so-innocent tradition —breaching which can come with dire consequences from honour killings to abductions and murders. 
"We know well the stories told of a wedding party turned into tragedy because the Dalit dulha (groom) came into the baraat on a horse," says Meera. The unwritten implication being that dominant castes are so threatened by the possibility of Dalits or Bahujans considering themselves equal, that mundane everyday activities like wearing shoes, dressing well, or getting on a ceremonial horse become contested, forbidden. "But in our region, we haven't heard of these things in a long time."
Instead, in the interiors of villages what still persists is that if there is a wedding, like Rekha's of a Dalit family, the dominant caste Thakurs or Pandits eat separately. Not just that, the raw materials for food like atta for rotis is provided and in a separate house it is prepared by a dominant caste person. For Dalits invited to dominant caste weddings, they have to pick up their own vessels and wash them, Meera says. 
One July ago in 2018, a year before Rekha's wedding, another Dalit youth was wed in the district of Kasganj — but after six months of tussle. In January a date had been set for the wedding of Sheetal of Nizampur village to Sanjay Jatav of Basai village. Sanjay who is Dalit had his heart set on sitting astride a horse, and parading his baraat through the village to the wedding mandap, like he could. The Thakurs of the village were not ready to accept this 'breach'. After six months of struggle, Sanjay Jatav rode up to his bride on a horse. 
The business of weddings — thwarted
Weddings and all the tamasha (show) involved hold up entire industries of livelihoods in Bundelkhand. 
There are the decorators who drape the dulha's car with strings of flowers. This is often a trade passed down over generations, and flowers may come specially from Kanpur or Allahabad, depending on how heavy the wallet and how celebratory the family is feeling. 
"Ten years ago cars would be decorated with chandi (silver). Now it's become flowers," says Rakesh Saini who is from the "maali" (gardener) caste and has been in this profession since 2013. Artificial flowers (for those on a budget) come to Rs 500-600 a car, and the real deal ranges from Rs 1000-1500. It's not enough to run a family, but it's a living, he says. 
Then there are heart-artists like Rajendra Kumar of Mahoba, who creates a custom paper heart for each wedding in which to clasp the newlyweds together (Rekha sang Kishan —remember?). There are wall-painters, and mandap-makers; also the pattal-waalas, seasonal wedding workers who travel to the region during shaadi season to take over the washing of vessels. Often it is an entire family that migrates to take on this work and fill their bellies for a time on these wages. 
Last March as the Covid-19 lockdown was enforced, one such family found themselves in forced exile in Naraina, Banda. The family had travelled from Lucknow to  Bundelkhand around Holi, on the strength of a verbal contract for labour. As pattal walas, the usual plan was to go from wedding to wedding in the shaadi season, washing vessels and cleaning up — so that the hosting family could relax. However as businesses were halted and roads home closed abruptly, they were told that there were no weddings and no work. The family became one of the casualties of the national migrant crisis, living in makeshift quarters in the Machli Mandi (fish market), and praying for rations from the authorities. 
Another casualty of Corona's unholy arrival were the local beauty parlours that function as outlets to get a facial and a wax, sure—but also to rent a bridal lehenga and jewelry. In October 2020 Archana, the owner of Purvi Beauty Parlour in Mahoba reported that her earnings had dwindled from Rs 200-400 daily to not even Rs 10. "Shaadi season is the prime time for lehenga bookings, and so I had made all the arrangements because I had 20-25 pre-bookings,"she said. "Now no one is coming."
One lehenga for a bridal party member costs up to Rs 5000; if it is for the bride herself it can range from Rs 10,000 to Rs 20,000. Archana was staring at a loss of about Rs 50,000. By the time this would blow over, all the fashions would have changed, she said. 
Working at these parlours is a gendered affair — with closures more women were pushed back into the domestic sphere. Such parlours are frequently a way to gain a measure of independence for girls who take up parlour training courses, such as the one offered in Banda's Pandit Jawahar Lal Degree College — free of cost for Dalit women and girls, sponsored by Allahabad Bank's Rural Self Employment Training Institute. It's also increasingly considered a socially acceptable vocation for young girls and bahus (daughter-in-laws) of the house, given it brings in an additional source of income. 
For rural women these parlours are one way to evade the unemployment rate of 32% for rural graduate women in India, even as in low-skill occupations where Indian women comprise nearly 70 percent of the workers, they earn 69 percent of what men do. 
With women spending an average of Rs 2000-3000 per month in the parlour, now tapered off due to fear of infection— many parlour workers  found themselves without savings, income to put their children through school— or the 'legitimate' time spent outside the house.  
Weddings, when they did happen during the peak of the pandemic last year, briefly turned into subdued affairs such as Varsha's 5-person jaimaal ceremony in Nauranga village, Banda in May 2020. Or events with super-spreader potential such as the mass wedding at Lakshmi Garden Wedding Hall in Jaitpur block of Mahoba, on 8 December 2020, where 15 couples were married under the Chief Minister's Collective Marriage Scheme. The event was light on expenses for the families involved, but also unfortunately light on masks.
Women, Covid-19, and wedded bliss? 
A more unfortunate gendered side-effect of Covid-19 with long term implications was the spike in young girls being pushed into early-marriages. As incomes dropped and poverty escalated in lockdown, many families at a loss to feed themselves married  off their girls to relieve financial burden. While the Prohibition of Child Marriage Act (2007) makes marriage of girls under 18 illegal, 898 cases had been reported and stopped in Uttar Pradesh between lockdown and July 2020 alone.